The club will use the system to create TV productions at its AFAS stadium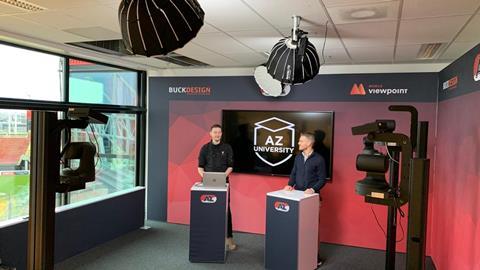 Eredivisie club AZ Alkmaar has chosen to use an AI driven camera studio system to create studio productions.
The technology, named vPilot and developed by Mobile Viewpoint brand IQ Video Solutions, allows for the creation of professional studio productions without a camera crew or director. This can be in the form of a live stream, recordings, or other.
vPilot was installed at AZ's AFAS stadium by Buckdesign, who also designed and completed the studio at the ground.
The system uses PTZ cameras and, through the use of 3D scanners and software, can track people within the studio, while utilizing a virtual director to create the production with different shots and any necessary graphics, inserts and external feeds.
It is unclear what this could mean for the future of camera crews and directors for studio productions.
There is also an IQ Video Solutions system that allows the live streaming of matches remotely without a camera crew, but this is aimed at 'tier three of four' level games which may not otherwise be able to afford camera people - according to a Mobile Viewpoint presentation on Thursday.
Commercial director of AZ, Michael Koster, said: "In the long term, having our own studio for a variety of different broadcast applications is our plan but with the current pandemic we have a high priority for keeping channels of communication open for our loyal fanbase while we play behind closed doors.
"The pre-match and post-match analysis that we live stream allows us to keep our fan engagement relevant and close. The longer term plan is that we intend for the studio to be used by broadcasters and for other external communications, as well as a platform for a university course that we are setting up."
Michael Bias, managing director of Mobile Viewpoint and IQ Video Solutions, added: "We have been developing AI solutions for sports and studio productions for the last 18 months, and to have our local Eredivisie football team to implement our technology is a great honour for us and justifies many of the manhours we have put into this evolving technology."