Low-latency video streaming and networking solutions supplied by Haivision will assist EVS.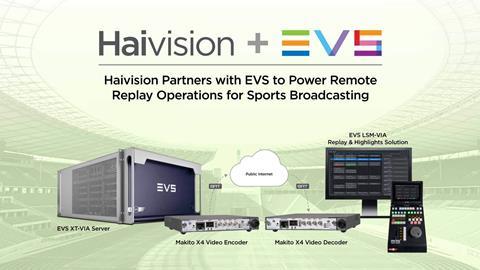 EVS and Haivision have partnered to enable replay creation in remote productions.
EVS, supplier of live video technology for broadcast and new media productions, will use Haivision's Maikito X Series of real-time video encoders and decoders to generate low latency, encoded IP video streams from its XT-VIA live productions servers in venues to remote LSM-VIA controllers over any managed network or the public internet.
This allows the extension of video monitors over long distances, even with resolutions up to 4K/UHD.
Part of EVS' LiveCeption Signature solution, the integration use the Secure Reliable Transport network protocol - which allows streaming of high quality, full frame rate video at a low latency. This means replay operators can watch their video assets while operating with the LSM-VIA as if they are working in the same location as the XT-VIA servers.
Chief marketing officer at EVS, Nicolas Bourdon, said: "In order to create replays and highlights quickly, replay operators rely on instant visual responses from the LSM-VIA replay user interface.
"When the replay operator cannot be on-site, the Haivision solution completes the EVS replay environment by providing the best interaction possible for remote operators, even over widely-available and cost-effective public internet connections."
Haivision CMO and EVP strategic partnerships, Peter Maag, added: "Even before the pandemic, broadcasters had been transitioning to remote IP workflows to bring efficiency to their operations. Today's realities have simply accelerated those plans."