It has been named the offical technical broadcast partner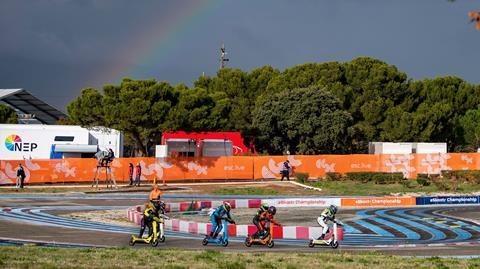 The NEP Group has been named the eSkootr Championship's official technical broadcast partner.
The company will handle the competition's outside broadcast operation for its debut season later this year.
NEP will use on-site and remote broadcast solutions to do this, aiming for a sustainable production while managing the challenges of outdoor broadcasting from temporary city centre locations. The ultimate aim will be to have as much of the staff and operations as possible working remotely from the London Production Centre, Hilversum and other remote locations connected to the NEP Network.
It will supply a range of services including GFX, capture, connectivity and specialist camera and RF technology for use in onsite and centralised production models.
Hrag Sarkissian, eSkootr Championship™ co-founder and CEO, said: "As a brand-new sport with a unique racing format in the heart of city centres, eSC presents many different broadcast challenges. After working with the NEP Group on our test events, we have been impressed by their commitment to technical development and innovation and their ability to find solutions that will enable us to put on sustainable inner-city broadcasts through both on site and remote production."
Director of sales at NEP Major Events Brian Clark added: "We are delighted to be working on this new sport with the eSC team and their partners. Also, we are looking forward to the innovations in coverage that will be one of the hallmarks of eSkootrs and ensuring that we help develop a sustainable coverage plan for this global series."