Minnow Films BBC3 drama Glasgow Girls and Mentorn Scotland's, Scotland Decides: The Big, Big Debate were among the winners at the RTS Scotland Awards 2014.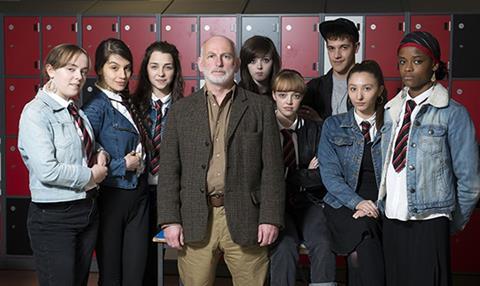 The event, which took place on 20 May at Glasgow's Oran Mor and was hosted by Catriona Shearer and Sanjeev Kohli.
The Minnow musical drama (pictured), which told the true story of a group of schoolgirls who launched a campaign to free their friend from a Home Office detention centre, saw off competition from BBC1 drama Shetland.
Elsewhere the RTS' first Referendum award was presented to Mentorn Scotland for its hour-long programme, Scotland Decides: The Big, Big Debate. The James Cook-fronted show gave an audience of 16 and 17 year olds the opportunity to quiz politicians and personalities from both sides of the campaign.
Mentorn Scotland's director of current affairs Hayley Valentine said: "The programme was a very ambitious project, which I think demonstrated Scotland's young people at their very best."
The RTS Scotland Award was presented to Elizabeth Partyka, STV's deputy director of channels, to acknowledge her contribution to Scottish television which includes launching local TV channels STV Glasgow and STV Edinburgh.
RTS Scotland Awards 2014
Documentary & Specialist Factual
Keys to the Castle
Darren Hercher Films for BBC Two Scotland
Factual Entertainment & Features
It Was Alright In The 70's
Objective Scotland for Channel 4
Daytime
Holiday of My Lifetime with Len Goodman
Raise the Roof Productions for BBC One
Drama
Glasgow Girls
Minnow Films for BBC One Scotland / BBC Three
Referendum programme
Scotland Decides: The Big, Big Debate
Mentorn Scotland for BBC One Scotland
News Programme
Reporting Scotland
BBC Scotland News and Current Affairs for BBC One Scotland
Current Affairs
Cybercrimes with Ben Hammersley: Darknets
Tern TV for BBC World News
Sport: Live Event
Get Inspired - Andy Murray Live
BBC Scotland Learning in collaboration with BBC Sport
Sport: Programme
Jock Stein
Purple TV for BBC ALBA
Comedy
Bob Servant - Episode 3
BBC Scotland Comedy Production for BBC Four and BBC One Scotland
Children's
Officially Amazing
Lion Television Scotland for CBBC
Short form content
Every School Needs a Pipe Band
Media Co-op on YouTube
Animation
Sir Chris Hoy: How to Win Gold
ISO Design, BBC Scotland Documentaries for BBC One Scotland
Student Television Award
The Scribbler
Kurosh Kani, Hannah Smith and Jennifer Barrie, The Royal Conservatoire of Scotland
Television Journalist Of The Year
Bernard Ponsonby STV News
Professional Excellence (Craft):
Camera
Imagine…Anselm Kiefer: Remembering the Future Fraser Rice, BBC Scotland Arts Production for BBC One
Sound
Nicola Benedetti's Indian Serenade
Stewart Simpson, BBC Scotland Arts Production for BBC Two Scotland
Post Production: Editing
Facing up to Mackintosh
Jonathan Seal, BBC Scotland Arts Production for BBC Two Scotland
Post Production: Graphics & Titling
XX Commonwealth Games 2014 Opening Ceremony
Damien Smith, Mark Breslin and Clyde Lawson, ISO Design for BBC One
The Innovation Award
The Queen's Baton Relay
BBC Two Scotland
The RTS Scotland Award
Elizabeth Partyka
Deputy Director of Channels, STV