Following the London 2012 Paralympics was a tough challenge, but not only did the Team GB athletes in Rio surpass their previous medal haul, Channel 4's coverage of the event also hit new heights.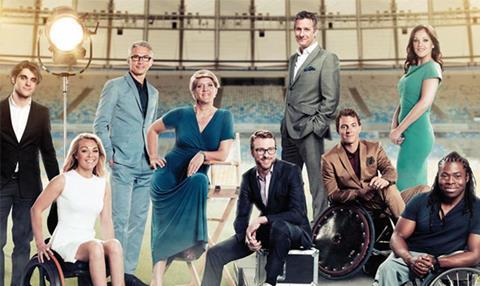 Sunset+Vine for Channel 4
The broadcaster had some ambitious diversity targets for its Sunset+Vine-led coverage of the Rio games.
Almost two thirds of the on-screen talent were disabled and C4's commitment to diversity extended to off-screen talent too: 15% of the Sunset+Vine production team were disabled, many of them new to the industry and graduates of C4's Rio Production Trainee Scheme.
The judges said this was part of an approach that was "fresh and innovative and embraced all the values of the sport and engaged all audiences".
While the main events were covered by host broadcaster Olympic Broadcasting Services (OBS), Sunset+Vine's cameras provided supplementary coverage for a UK audience, with OB units deployed for the athletics and swimming events and two roving OB teams moving between venues.
Track cycling and wheelchair basketball had dedicated commentary positions and live mixed-zone set-ups to provide live reports and interviews the moment the competitors finished their event.
The result was the most ambitious live broadcast in C4's history. One judge summed it up as "sporting and production excellence in tandem – bold, relevant and inspirational".
SHORTLIST
2015 RUGBY WORLD CUP: SOUTH AFRICA V JAPAN
ITV Sport for ITV
Japan's defeat of two-time Rugby World Cup winners South Africa was easily the shock of the 2015 tournament – and arguably the biggest upset ever in a Rugby World Cup. A peak of 7.8 million viewers tuned in for host broadcaster ITV's coverage of the game.
Judges praised the broadcaster for how well it conveyed the excitement of the match.
THE GRAND NATIONAL 2016
IMG Productions for Channel 4
The Grand National provided Channel 4 with some of its highest ratings of the year, and offered the broadcaster and IMG Productions the opportunity to use some high-tech kit.
The 2016 race included the first ever use of 'Jockey Cam', as well as a vehicle-mounted Scorpio jib arm that is more often used on movie sets.
ISLE OF MAN TT
North One Television for ITV4
The judges were wowed by the footage from purpose-built on-board cameras, which helped to provide a sense of the danger and thrills experienced by the riders who take on the 37-mile road race. The event rated well, with an average of 501,000 viewers skewing heavily to the channel's target male audience.
RIO 2016 SUMMER OLYMPICS
BBC Sport for BBC One
The BBC was praised for its multiplatform coverage that kept viewers up to date with action that took place over more than two weeks and included 28 different sports in venues around Rio de Janeiro. BBC Sport produced more than 500 hours of network TV coverage, with a further 2,500 hours available via its digital platforms.
UNITED STATES F1 GRAND PRIX
Sky Sports Production for Sky Sports F1
Some 1.7 million viewers tuned in to see Lewis Hamilton claim the F1 title in Austin. Sky's coverage included a virtual car, the Sky Pad, race control and pit wall live. A plethora of analysis tools and camera angles were also available to fans via the Sky Sports for iPad app.