The success of ob docs such as Royal Marines Commando School is driving fixed-rig innovation.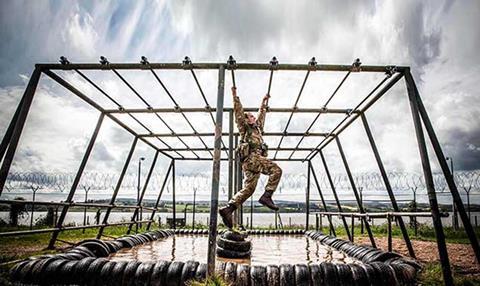 With Twofour's Educating The East End and Royal Marines Commando School both doing well in the ratings, Channel 4's appetite for fixed-rig shows little sign of waning.
Although the BBC is less keen on the format, Channel 5 has also got in on the act, seeking to uncover what goes on in a doctors' surgery in 4 x 60-minute fixed-rig doc The Surgery: Medicating Lewisham (working title) from Knickerbockerglory, while in June, Sky 1 ordered its first fixed-rig doc The Sun Set (w/t), about families on holiday in a villa complex, from Twofour and GroupM Entertainment.
With the continued success of ob-doc and fixed-rig shows, more and more productions are incorporating the technology. And in a bid to break new ground, indies want to shoot fixed-rig-shows in environments previously not conducive to the format's usual large-scale set-up.
Last year, C4 hosted Up All Night, a season of mini-rig docs that explored what happens late at night in minicab firms, karaoke bars and nightclub toilets – all spaces that don't usually permit a film crew.
Traditionally, fixed-rig shows have used a large number of 'hot head' remotely controlled cameras, often between 20 and 60 units, with a similar number of microphones.
The number of operators and directors controlling these cameras and mics depends on the number of concurrent stories the production wishes to capture, but it is usually two or three. There will also be a sound engineer or two looking after the audio, plus a video engineer.
The footage is then captured continuously throughout the day's shoot on to some form of recording medium, itself controlled by a team of operators. The action is then logged by another team ready for use in the edit. This type of shooting creates distinct editorial content and a particular look.
Suppliers have worked to meet the demands of productions that want smaller kit or cannot afford the large financial outlay of these shows. One of the biggest costs is staffing. It is not just wages, but transport to and from location, accommodation for all involved and the cost of security and background checks for staff on shows filmed in hospitals and schools.
Cutting costs
Until now, these costs had to be accepted and budgeted for, or the project might be shelved. However, Minicams, which has provided camera rigs for Twofour shows such as Happy Families and Royal Marines Commando School, has developed a system that should alleviate some of the concerns around cost.
Minicams managing director Nick McLachlan explains: "While working on the first series of Hotel Of Mum And Dad, we were rigging a single camera activated by an infrared sensor, and I realised that it would be great to be able to run a whole rig remotely."
Minicam's camera control system, which it developed in-house, allows camera control plus the operation of vision mixer, audio switching and all ancillary controls to be operated over a standard IT-style network.
This means that only the brain of the rig, in a fridge-sized flight case, plus cameras and microphones, needs to be housed on location. All control equipment, operators and members of the production team can be based elsewhere, at Minicam's or the production company's office.
The use of a networked rig means that a production can operate fixed-rig camera set-ups in multiple locations from a single, fixed base, further reducing cost.
"We can control the system over a variety of connections, from a domestic broadband connection to 3G mobile technology or even IP over satellite, if a location is really remote," says McLachlan. "This means that the rig is great for projects that need a production presence in a remote location, but don't have the budget for technical staff.
"We can log in to the system, solve problems or make configuration changes remotely, even while the show is recording." The remote system is being used for the first time on Blink Films' The Shut-Ins for Channel 4, which will TX next year.
Different angle
Coming at the same problem from a different angle is The Complete Camera Company, which took the template of a fixed-rig show and condensed it into a much smaller area in Mentorn Media's Chicken Shop for C4.
It also rigged three taxis and a taxi office with minicams and recorders for the broadcaster's Minicabs series. Complete Camera also worked with MSV Post, the in-house post house for Mentorn Media, Sunset + Vine and Pioneer Productions, on the current series of Hotel Of Mum And Dad for BBC3.
Having been tasked with recording 12 couples for three days, with the shoots running consecutively, Complete Camera decided on a rig of four cameras. Company director Paul O'Connor says: "We recorded every thing from all four cameras to Sound Devices Pix 260 recorders. This removed the need for a video matrix and gallery directors, although a PD was still on site, which allowed us to get the classic fixed-rig-style footage."
The set-up meant the production captured twice the normal amount of footage for a project like this. However, the Pix 260 recorders, which can record a variety of codecs on to removable hot-swappable drives, allowed onsite edit assistants to assemble rough cuts of the best footage without halting the recording. This ensured that only relevant material was bought back to the edit.
This 'triaging' of media before the edit saved production storage costs, on location and back in post, while also reducing the time needed media for the offline edit.
Royal Marines Commando School
To cover the journey from raw recruit to trained marine for Twofour's Royal Marines Commando School, Minicams rigged more than 100 camera positions.
Managing director Nick McLachlan says it was one of the biggest rigs ever deployed for a UK TV series. "To manage this number of cameras, we first needed to create a network that could give us total flexibility and transparency."
The crew employed 50 Panasonic AW-HE60s PTZ cameras, which were controlled using standard network connectivity. With each camera having a unique IP address, Minicams could change and keep track of the location of each unit. Users at both the head end and in MCR could verify at a glance that each camera was connected and active on the system.
"Ethernet connectivity helped make camera installation and position changes a plug-and-play exercise. And the use of standard IT switching equipment rather than proprietary broadcast kit helped us keep down the production's costs. RS-422 (serial interface standard) equipment is simply not scalable or versatile enough for this kind of project," says McLachlan.
The bi-directional nature of the fibre optic also allowed camera control for all 100 PTZ positions to pass through a single cable.
Talking audio
One often under-discussed factor of fixed-rig shows is audio, specifically radio microphones.
Twofour facilities manager Rick Horne says: "One of the challenges on larger rig shows is how to radio mic a cast of 60 with limited mics available. The only way is to constantly swap them from one contributor to the next.
"Keeping accurate track of this movement has always proved tricky, but the Rimms system has helped improve this accuracy. This is a huge help during the record and edit."
The Rimms (Remote Integrated Mic Monitoring System) is operated by a team of three audio engineers.
Creative director Oliver Waton says: "Our system allows us to track microphone allocations in real time, generating interactive logs for post-production. We've also developed our own microphone mixing function using a custom-made streaming protocol to allow real-time, uncompressed audio to be mixed and transmitted with less than half a frame's latency over our wireless networks.
"This means that production teams can listen to and record a personal mix of up to 64 microphones live, using our platform."