Fortitude – the first big-budget drama distributed internationally by Sky Vision – was a global hit, selling to linear broadcasters and SVoD services around the world. The Sky-owned distribution division is now hoping that its next trip to an ice-capped climate can be just as successful.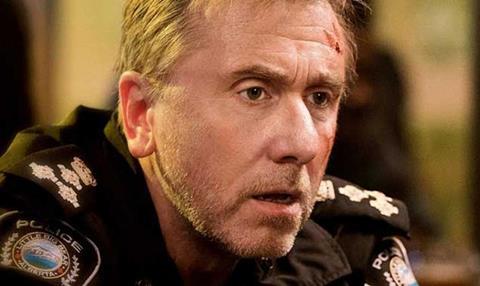 Distributors Sky Vision; Endemol Shine International
Producer Kudos
Length 10 x 60 minutes
Broadcaster Sky Atlantic (UK)
Tin Star is set in the Rocky Mountains and, similar to the Fifty Fathoms-produced drama, tells a tale of crime and murder against the backdrop of a beautiful but remote town.
The 10-part drama stars Reservoir Dogs' Tim Roth as Jim Worth, a former Metropolitan police detective who moves his family to an idyllic rural community where he becomes police chief.
However, the small town is soon overrun by migrant workers from a new oil refinery, leading to a wave of drugs, prostitution and organised crime.
Worth makes a stand, which is followed by murder and tragedy.
The police chief must uncover who was behind the attack. He investigates whether it was the oil company, fronted by its corporate liaison officer Mrs Bradshaw, played by Mad Men's Christina Hendricks, or whether his own dark past has caught up with him.
The show was created by 28 Weeks Later and Before I Go To Sleep writer Rowan Joffe, the latest high-profile film figure to move into television.
Foot on the gas
Sky Atlantic will launch the show later this year as one of its six annual original commissions, each with a budget of around £25m – part of director of programmes Zai Bennett's drive to "keep its foot on the drama gas".
It is produced by Broadchurch and Humans indie Kudos and exec produced by Hunted's Alison Jackson and chief executive Diederick Santer, with Capital's Matt Strevens as series producer.
Tin Star is being distributed by both Sky Vision and Endemol Shine International, which are sharing territories.
Sky Vision will distribute the show across Europe, the Middle East and Africa, while Endemol Shine International will handle sales in all other markets.
The move is largely designed to allow the two companies to share the risk of deficit-financing such a big-budget drama.
It is a similar strategy to that employed by Sky with The Last Panthers, which it co-distributed with StudioCanal, Sky Vision managing director Jane Millichip says there is a funding challenge in drama "because you often attach yourself two years before the show is delivered".
"We have set the bar quite high for ourselves in terms of budget," says Millichip.
"If you spend the budget well, it will look brilliant and as if it has incredible scale. A lot of the Sky Atlantic dramas we handle are like that. There's an expectation that all that money will be on screen. These are enormous worlds we are creating."
Sky Vision is launching a raft of high-end titles at Mip TV, which Millichip calls a "big market for us, for drama".
It will also be selling Britannia, a 10-part period drama set in 43AD, as the Roman Imperial Army returns to crush Britannia, a world run by wild warrior women and powerful druids. Produced by Call The Midwife indie Neal Street and Bronson producer Vertigo Films, the show is the first co-pro between Sky and Amazon, which has taken the US rights.
The distributor will also be premiering Côte d'Azur-set thriller Riviera at the market.
A Mipcom 2016 Hot Pick, the Archery Pictures/ Primo Productions series stars Julia Stiles as a woman searching to uncover the circumstances behind her billionaire art collector husband's death.
The first episode will screen at the Palais des Festivals' Grand Auditorium on 3 April at 6.30pm.
Elsewhere, Sky Vision will use the Mip Drama Screenings to begin conversations about Bad Blood, a gritty drama for FX Canada about notorious Mob boss Vito Rizzuto, starring Without A Trace's Anthony LaPaglia.