Cooking show beat the launch of ITV's The X Factor for both individuals and younger viewers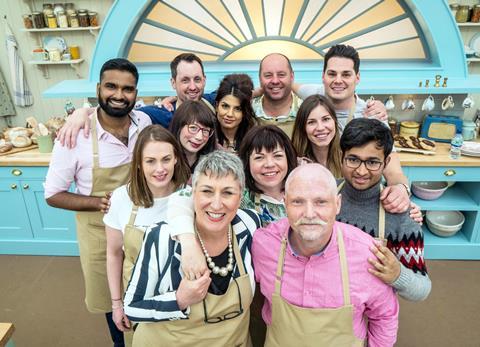 September arrived and ITV, like a suddenly woken cat, leaped into action with Saturday's aged dreadnought and Sunday's new adaptation that deserved better than to find itself against BBC1's newly established hit.
Meanwhile, as the big buns returned, Channel 4 could do with finding something that sticks more stubbornly to the sides of its baking tin.
MONDAY
The second episode of BBC1's thriller Bodyguard attracted 6.4 million/30% at 9pm, just 33,000 fewer than Sunday's launch against ITV's genial, if minimal, opposition: the Dad's Army film at 8.30pm (2.1 million/10%; 180,000 +1).
TUESDAY
C4's second-series launch of The Great British Bake Off drew 5.5 million/27% (588,000 +1) for 75 minutes from 8pm, 450,000 and 1 share point fewer than 2017's opener. It hammered BBC1's Holby City (3.3 million/16%) and ITV's Love Your Garden (2.1 million/ 10%; 163,000 +1).
Bake Off was 4 share points up and 30,000 down for 16-34s (1.8 million/57% incl +1) compared with 2017.
At 9pm, the penultimate episode of BBC1's drama Age Before Beauty (2.6 million/14%) lost to ITV's Long Lost Family (2.4 million/13%; 230,000 +1).
C4's First Dates Hotel frittered away most of Bake Off's audience with 1.6 million/9% (200,000 +1) from 9.15pm.
WEDNESDAY
BBC1's drama Age Before Beauty finished at 9pm with 2.9 million/ 16%, ahead of ITV's David Walliams Presents… Revenge Of Alright On The Night (2.3 million/13%; 131,000+1).
THURSDAY
At 9pm, the finale of BBC1's eight-part drama Keeping Faith (2.9 million/16%) defeated ITV's Our Everest Challenge With Ben Fogle And Victoria Pendleton (1.7 million/10%; 90,000 +1).
FRIDAY
BBC1's Celebrity MasterChef drew 3.2 million/18% at 8.30pm for 90 minutes, behind ITV's Coronation Street at 8.30pm (5 million/28%; 148,000 +1) but squishing ITV's Doc Martin repeat at 9pm (1.9 million/11%; 134,000 +1).
SATURDAY
ITV's 15th series of The X Factor launched at 8pm with 5.4 million/ 32% (327,000 +1) – the lowest launch in at least 12 years going back to 2006, the earliest data available.
The show attracted 1.2 million/ 49% (incl +1) 16-34s, 169,000 and 1.6 share points behind last year's opener and fewer than C4's Bake Off on Tuesday and ITV2's Love Island 4 June opener in volume (1.5 million/48% incl+1), though it was ahead in share.
Still, The X Factor was the highest-rating show of Saturday – which won't last when BBC1's Strictly returns. In the meantime, BBC1's Casualty drew 3.8 million/ 23% at 9.10pm, defeating ITV's opening episode of The Jonathan Ross Show opposite (2.1 million/ 13%; 133,000+1).
SUNDAY
At 8pm, ITV's The X Factor attracted 4.6 million/22% (368,000 +1), just ahead of BBC1's Fake Or Fortune? opposite (4.1 million/ 20%).
At 9pm, ITV's new period drama Vanity Fair picked up just 2.5 million/12% (462,000 +1), less than half of BBC1's Bodyguard (6.7 million/33%), which drew 80,000 and two share points fewer than last week's opener. Recorded viewing will be interesting.
Top 100 - 27 August - 2 September

| | Title | Day | Viewers (m) (all homes) | Share (%) | Broadcaster/producer |
| --- | --- | --- | --- | --- | --- |
| 1 | BODYGUARD | SUN | 6.65 | 32.60 | BBC1/World Productions |
| 2 | BODYGUARD | MON | 6.40 | 30.15 | BBC1/World Productions |
| 3 | THE GREAT BRITISH BAKE OFF | TUE | 6.06 | 29.40 | C4/Love Productions |
| 4 | CORONATION STREET | MON | 5.99 | 31.11 | ITV |
| 5 | CORONATION STREET | WED | 5.96 | 34.94 | ITV |
| 6 | THE X FACTOR | SAT | 5.67 | 33.65 | ITV/Syco/Thames |
| 7 | CORONATION STREET | FRI | 5.62 | 35.37 | ITV |
| 8 | EMMERDALE | TUE | 5.50 | 33.50 | ITV |
| 9 | CORONATION STREET | WED | 5.36 | 28.22 | ITV |
| 10 | EMMERDALE | WED | 5.22 | 32.39 | ITV |
| 11 | EMMERDALE | MON | 5.17 | 29.38 | ITV |
| 12 | CORONATION STREET | FRI | 5.16 | 28.58 | ITV |
| 13 | THE X FACTOR | SUN | 4.99 | 24.28 | ITV/Syco/Thames |
| 14 | EMMERDALE | THU | 4.97 | 31.34 | ITV |
| 15 | EMMERDALE | FRI | 4.87 | 32.39 | ITV |
| 16 | EASTENDERS | TUE | 4.82 | 27.92 | BBC1 |
| 17 | EASTENDERS | MON | 4.74 | 23.12 | BBC1 |
| 17 | EMMERDALE | THU | 4.74 | 26.44 | ITV |
| 19 | COUNTRYFILE | SUN | 4.67 | 26.45 | BBC1 |
| 20 | BBC NEWS AT TEN | MON | 4.62 | 28.30 | BBC1 |
| 21 | BBC NEWS | SUN | 4.47 | 28.99 | BBC1 |
| 22 | EASTENDERS | THU | 4.40 | 26.78 | BBC1 |
| 23 | BBC NEWS | MON | 4.15 | 26.38 | BBC1 |
| 24 | BBC NEWS | SAT | 4.09 | 26.47 | BBC1 |
| 25 | FAKE OR FORTUNE? | SUN | 4.08 | 19.88 | BBC1 |
| 26 | EASTENDERS | FRI | 3.95 | 23.59 | BBC1 |
| 27 | CASUALTY | SAT | 3.80 | 22.76 | BBC1 |
| 28 | BBC NEWS AT SIX | WED | 3.71 | 27.98 | BBC1 |
| 29 | BBC NEWS AT SIX | TUE | 3.69 | 27.22 | BBC1 |
| 30 | THE ROYAL EDINBURGH MILITARY TATTOO | MON | 3.64 | 19.96 | BBC1 |
| 30 | CELEBRITY MASTERCHEF | THU | 3.64 | 20.23 | BBC1/Shine TV/Ziji Productions |
| 32 | BBC NEWS AT SIX | THU | 3.62 | 27.77 | BBC1 |
| 33 | BBC NEWS | SUN | 3.61 | 24.17 | BBC1 |
| 34 | CELEBRITY CATCHPHRASE | SAT | 3.59 | 24.59 | ITV |
| 35 | PAUL O'GRADY'S LITTLE HEROES | WED | 3.54 | 20.60 | ITV |
| 36 | BBC NEWS AT TEN | WED | 3.42 | 24.36 | BBC1 |
| 37 | ITV EVENING NEWS | MON | 3.36 | 20.55 | ITV/ITN |
| 38 | BBC NEWS AT SIX | FRI | 3.35 | 26.92 | BBC1 |
| 39 | BBC NEWS AT TEN | THU | 3.30 | 24.17 | BBC1 |
| 40 | HOLBY CITY | TUE | 3.29 | 15.98 | BBC1 |
| 41 | SHOP WELL FOR LESS | WED | 3.28 | 18.15 | BBC1 |
| 42 | CELEBRITY MASTERCHEF | FRI | 3.19 | 18.49 | BBC1/Shine TV/Ziji Productions |
| 43 | BBC NEWS AT TEN | FRI | 3.18 | 21.80 | BBC1 |
| 44 | ITV EVENING NEWS | WED | 3.14 | 21.37 | ITV/ITN |
| 45 | BBC NEWS AT TEN | TUE | 3.08 | 21.38 | BBC1 |
| 46 | ITV EVENING NEWS | TUE | 3.07 | 20.77 | ITV/ITN |
| 47 | THE CHASE: CELEBRITY SPECIAL | MON | 3.06 | 24.70 | ITV/Potato |
| 48 | ITV EVENING NEWS | THU | 2.97 | 20.82 | ITV/ITN |
| 49 | WOULD I LIE TO YOU? | MON | 2.96 | 15.07 | BBC1/Zeppotron |
| 50 | VANITY FAIR | SUN | 2.94 | 14.64 | ITV/Mammoth Screen |
| 51 | KEEPING FAITH | THU | 2.87 | 16.49 | BBC1/Vox Pictures |
| 52 | MATCH OF THE DAY | SAT | 2.85 | 26.01 | BBC1 |
| 52 | AGE BEFORE BEAUTY | WED | 2.85 | 15.94 | BBC1/Mainstreet Pictures |
| 54 | THE CHASE: CELEBRITY SPECIAL | WED | 2.83 | 27.24 | ITV/Potato |
| 54 | THE ONE SHOW | TUE | 2.83 | 17.25 | BBC1 |
| 56 | THE CHASE: CELEBRITY SPECIAL | TUE | 2.78 | 26.51 | ITV/Potato |
| 57 | ITV EVENING NEWS | FRI | 2.67 | 19.80 | ITV/ITN |
| 57 | POINTLESS | SAT | 2.67 | 15.72 | BBC1/Remarkable Television |
| 59 | LONG LOST FAMILY | TUE | 2.65 | 14.25 | ITV |
| 59 | THE ONE SHOW | WED | 2.65 | 16.43 | BBC1 |
| 61 | THE ONE SHOW | THU | 2.61 | 16.48 | BBC1 |
| 62 | BBC NEWS AT ONE | MON | 2.60 | 33.62 | BBC1 |
| 63 | AGE BEFORE BEAUTY | TUE | 2.56 | 13.74 | BBC1/Mainstreet Pictures |
| 63 | JAMES MARTIn'S AMERICAN ADVENTURE | FRI | 2.56 | 15.25 | ITV |
| 65 | THE CHASE: CELEBRITY SPECIAL | THU | 2.53 | 25.01 | ITV/Potato |
| 66 | THE CHASE: CELEBRITY SPECIAL | FRI | 2.50 | 26.20 | ITV/Potato |
| 67 | RIP OFF BRITAIN | WED | 2.44 | 14.31 | BBC1 |
| 68 | £10K HOLIDAY HOME | TUE | 2.42 | 14.01 | ITV |
| 69 | DRAGONS' DEN | SUN | 2.39 | 11.62 | BBC2 |
| 70 | DAVID WALLIAMS PRESENTS…REVENGE OF… | WED | 2.38 | 13.36 | ITV |
| 70 | IMPOSSIBLE CELEBRITIES | SAT | 2.38 | 15.11 | BBC1/Mighty Productions |
| 72 | FORMULA 1 | SUN | 2.33 | 12.46 | C4 |
| 72 | FLOG IT! | MON | 2.33 | 16.65 | BBC1 |
| 72 | TONIGHT: OUR DEBT: THE TRUE COST | THU | 2.33 | 14.17 | ITV |
| 75 | BBC NEWS AT ONE | TUE | 2.31 | 37.69 | BBC1 |
| 76 | DAD'S ARMY | MON | 2.29 | 11.37 | ITV |
| 76 | LOVE YOUR GARDEN | TUE | 2.29 | 11.10 | ITV |
| 78 | BBC NEWS AT ONE | WED | 2.26 | 37.79 | BBC1 |
| 78 | 5 GOLD RINGS | SUN | 2.26 | 12.78 | ITV |
| 78 | THE ONE SHOW | FRI | 2.26 | 15.00 | BBC1 |
| 81 | THE JONATHAN ROSS SHOW | SAT | 2.23 | 13.86 | ITV/Hot Sauce |
| 82 | BIG STAR'S LITTLE STAR | SAT | 2.21 | 17.64 | ITV/12 Yard Pictures |
| 83 | MATCH OF THE DAY 2 | SUN | 2.19 | 21.95 | BBC1 |
| 84 | BIRDS OF A FEATHER | THU | 2.17 | 12.04 | ITV/Alomo Productions |
| 85 | ITV EVENING NEWS | SUN | 2.13 | 14.69 | ITV/ITN |
| 86 | A QUESTION OF SPORT | FRI | 2.11 | 13.30 | BBC1 |
| 87 | UNIVERSITY CHALLENGE | MON | 2.10 | 10.23 | BBC2/ITV Studios |
| 88 | BBC NEWS AT ONE | THU | 2.06 | 38.29 | BBC1 |
| 89 | DOC MARTIN | FRI | 2.03 | 12.05 | ITV/Buffalo Picutes |
| 90 | BBC NEWS | SAT | 2.02 | 20.49 | BBC1 |
| 91 | POINTLESS | SUN | 2.00 | 15.24 | BBC1/Remarkable Television |
| 92 | BARGAIN HUNT | TUE | 1.96 | 34.42 | BBC1 |
| 93 | THE CHASE | SUN | 1.92 | 15.23 | ITV/Potato |
| 94 | 24 HOURS IN A&E | WED | 1.90 | 10.62 | C4/The Garden |
| 95 | BARGAIN HUNT | MON | 1.87 | 26.60 | BBC1 |
| 96 | GARDENERS' WORLD | THU | 1.85 | 10.30 | BBC2 |
| 97 | GREAT BRITISH MENU | THU | 1.84 | 11.18 | BBC2/Optomen |
| 98 | BBC NEWS AT ONE | FRI | 1.80 | 30.52 | BBC1 |
| 98 | TIPPING POINT | WED | 1.80 | 24.07 | ITV/RDF Television |
| 100 | FIRST DATES HOTEL | TUE | 1.77 | 10.41 | C4/Twenty Twenty |