"It's a comedy with humanity behind it." Read on for the verdict on last night's TV.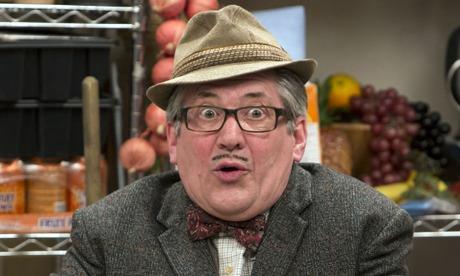 Count Arthur Strong, BBC2
It's a comedy with humanity behind it, banana skins with a lot of care and though, and a much-needed shot in the arm for the TV comedy scene. I'll conclude with the two words every performer wants to hear: "Bravo" and "More!".
Matt Baylis, Daily Express
Visually it was so derivative that it seemed deliberate, as if the nostalgia of flock wallpaper, long-fringed lamps, and Strong pencilled-on Hitler moustache could pass for good, funny entertaining. That said, Strong is too much of radio institution to be condemned to the TV rubbish heap. Perhaps this opening episode just suffered a cash of first night nerves.
Arifa Akbar, The Independent
I doubt there would have been many listeners – myself included – who thought the count a suitable case for a TV transfer. Over the course of three series on Radio 4, the word-stumbling, prop-stumbling old boy seemed to have rather run his course. I'm still not entirely convinced his revival was a good idea, but there was more life in it than I would have expected. Or rather, the life was almost all to be found in the new character of Michael Baker (Rory Kinnear), the son of Max, the count's old comedy partner, who had been thrown into the mix to prevent the show being what it was on radio: a monologue.
If I were the count, I'd be looking to up my game – and my gag quotient – pretty damn quickly. For if it does carry on like this, then Michael will steal the show and the count's career will have died for a second time. And there won't be another resurrection.
John Crace, The Guardian
This was a BBC comedy. You knew that because it had a laughter track. The problem was that it didn't have any jokes. But rather that it did. As a result, it felt very 1970s; but not in a good way.
Catherine Nixey, The Times
Howzat! Kerry Packer's War, BBC4
After a slow first half-hour of locker-room whisperings and scenes of Packer scaring his secretary, the drama raised its tone and tension, ending just as it looked as if Packer having invested everything in the first world series on 24 November 1977, might just have failed in the endeavour. Of course, cricket fans know how it really panned out, but this drama with its fine acting, it's even finer attention to period detail and its slow-burn suspense did it damnedest to have us champing at the but for the final part.
Arifa Akbar, The Independent
With its sub-Dynasty production values, flagging script and characters straight out of central casting, I ended up watching this more as a comedy than a serious drama. The only moment when I truly felt myself drawn into how the cricket crisis really felt was when the title music for World Series Cricket on TV came on. That brought it back. Says it all.
John Crace, The Guardian
Ordinarily the phrase "cricketing drama", particularly when its title contains the word "Howzat" and not to mention a "!" would make the heart sink. But this turned out to be marvellous.
Especially perfect was the period detail. And most especially of all, those cricketer's moustaches. Whic hwere luxuriant, and of a sort not normally associated with gentlemen. Perhaps the English were right after all.
Catherine Nixey, The Times
The Travellers' Secret Cash Stash, Channel 5
The Travellers' Secret Cash Stash revealed the activities of a minority of men from the Irish travelling community who have been suing their nomadic lifestyle and global contacts to remarkable effect. In scams stretching from Texas to Melbourne to Warsaw, a few gangs have raked in hundreds of pounds by doing nothing more sophisticated than taking down payments for building and asphalting work and vanishing.
There are people who steal and cheat because they have to. There are also, sadly, a few who steal and cheat because they enjoy it.
Matt Baylis, Daily Express