The media landscape is changing minute by minute in the digital age.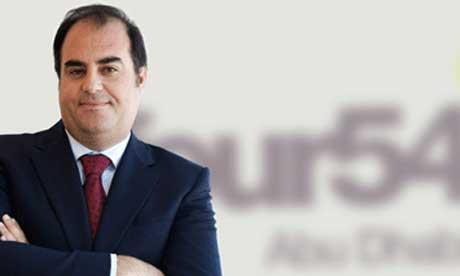 "Rapid transference is happening at all levels," says Wayne Borg, deputy chief executive and chief operating officer of Twofour54, which is organising the fourth Abu Dhabi Media Summit (22-24 October).
"The Summit is evolving the emphasis on digital." Indeed, its overall theme this year is: 'Leveraging The Digital Age'.
That will include everything from Netflix "redefining the commissioning of content" to "digital opportunities having a historical impact in education, with e-learning rapidly changing".
Abu Dhabi will welcome up to 500 invitation-only global media leaders to the Yas Viceroy Hotel for the toplevel conference, which Borg says is growing in stature having in recent years welcomed keynote speakers including Bill Gates, Ari Emanuel, James Murdoch and James Cameron.
The topics will include the rise of multiscreens, the future of gaming, mobile opportunities and how digital technology is having an impact on retail. "We have speakers from the likes of Twitter, Disney, Viacom and Discovery. Having those world leaders coming to the Summit reinforces how it has become a must-attend event on the yearly calendar," says Borg.
McKinsey Global Institute and Booz & Company will also be on hand to unveil new research results.
Names of individuals have yet to be confirmed but other companies represented include Payleven, EDX, Wipro, Codecademy, Arabnet and Oasis 500.
With Abu Dhabi itself heavily involved in the media industries, the emirate is a smart home for such a summit. Consumers in the Middle East (340 million strong) are known as early adopters of digital technology, and Twofour54 houses more than 230 media companies at all levels.
"We're looking at the global level of challenges for industry and also the implications of those for the region," says Borg. "This region can also play a leading role in changing the media landscape."
As such, one new feature of the Summit's final day will allow entrepreneurs to pitch their companies and ideas to a panel of industry experts. "They can get that exposure but also potential investment," says Borg. "It ties into the ecosystems we're building.
As the industry is evolving in the region, it's important that young people are part of that process."
Twofour54 also organises the Abu Dhabi Film Festival, which overlaps by one day with the Media Summit, kicking off on 24 October. The festival had something of a relaunch last year under director Ali Al Jabri, and this year's edition builds further on that.
"Last year set a new benchmark for us with the film-makers. We've had a great response this year with submissions," says Borg. "There is a real diversity of quality films. What the festival has done well is connect the Arab film-making community, wherever they are based."
Abu Dhabi's new production incentive is also boosting local production – Jerry Bruckheimer Films and Screen Gems' Beware The Night starring Eric Bana recently shot in the emirate, and Universal has announced plans for Fast & Furious 7 to also come to Abu Dhabi. "
That also benefits the regional industry, because crews are exposed to the best in their field," Borg says. "That knowledge transfer is invaluable."