The state's generous and easy-to-use 35% rebate is the main attraction for producers shooting in Oklahoma.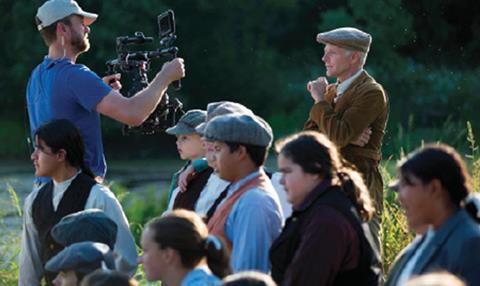 It is a big enough draw to often outweigh factors such as the limited film-making infrastructure and relatively small labour base.
Feature films to have shot in Oklahoma over the past 12 months include Sterlin Harjo's Mekko, Charles Agron Productions' Monday At 11:01am, The Chicksaw Nation's Te Ata, Table 31 Productions' Element and Unified Pictures' Rudderless, directed by William H Macy.
The state also hosted a segment of The Real Housewives Of Orange County and commercials for True Religion and Mountain Dew.
The 10-year extension — to 2024 — that the state's incentive rebate programme received last year could attract more features and, particularly, TV series, though total annual rebates are still capped at $5m.
Seven films have already been conditionally pre-qualified for the rebate programme in 2015.
Good to know
Pops diner near Oklahoma City is a Route 66 landmark with its selection of 600 different bottled sodas and its 66-foot neon-lit pop bottle sign.
The Lowdown
Financial incentives
A base 35% rebate on qualified Oklahoma expenditures, which include above and below-the-line payments to state residents and above-the-line payments to non-residents made via companies registered to do business in the state. An additional 2% is added to the total rebate if at least $20,000 is spent on music recorded in the state. Further information www.ok.gov/oklahomafilm/incentives/index.html
Infrastructure
The state's own workforce is two crews deep and production facilities include Chaotic Studios in Oklahoma City and Cloud Nine Productions in Tulsa.
Locations
Natural features in one of the state's 11 different ecological regions. Terrain includes flat plains, sand dunes, high mesas, dense forests, cypress swamps, rolling hills and rock or tree-covered mountains.
When in Oklahoma
Popular hotels include Skirvin Hilton, Colcord Hotel and the Embassy Suites in Oklahoma City and The Mayo Hotel in Tulsa. Many stay in condos in the region in which they are filming.
Oklahoma boasts cultural institutions such as the National Cowboy & Western Heritage Museum and the Chickasaw Cultural Center, sports events such as Oklahoma City Thunder basketball games and the historic music venue Cain's Ballroom in Tulsa. Visitors can also gamble in some of the state's more than 70 casinos.
Size matters
The mid-sized, mid-continent state of Oklahoma has 137 publicly owned airports, including Will Rogers World Airport in Oklahoma City and Tulsa International Airport. By air, Oklahoma is three hours from Los Angeles and five from New York.
Charles Agron, producer-writer-star, Monday At 11:01am
"Monday At 11:01am takes place in a boutique resort town and the film commission suggested Guthrie, an old cowboy town that worked very well for the script. And the incentive seems very competitive. Sometimes there are complications in dealing with incentives but in Oklahoma a lot of that red tape is not there."
Would you come back?
"Definitely. It's a friendly community that's happy to be getting the work that the film industry brings," Agron says.
What could be improved?
"More crews."
First person to call
Yousef Kazemi, film and locations co-ordinator, Oklahoma Film & Music Office yousef.kazemi@travelOK.com