Alex Farber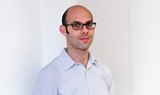 Alex joined Broadcast as senior reporter in February 2010 from New Media Age magazine. He is responsible for overseeing the Broadcast website.
He also edits the multiplatform page of the magazine.
http://twitter.com/alexfarber
Contact Info
Alex Farber
Web Editor
WEDNESDAY: The Great British Bake Off returned with a whopping high of 11m viewers – eclipsing the previous series opener.

Buzzfeed's video content has experienced "hockey-stick growth" since its launch, bolstered by a global distribution strategy across the likes of Facebook, Snapchat and Twitter.

Water polo and women's football dressing rooms are to be thrust into the spotlight with a fixed-rig series from UKTV's entertainment channel W.