Alex Farber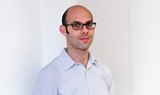 Alex joined Broadcast as senior reporter in February 2010 from New Media Age magazine. He is responsible for overseeing the Broadcast website.
He also edits the multiplatform page of the magazine.
http://twitter.com/alexfarber
Contact Info
Alex Farber
Web Editor
Netflix has ordered a children's animation series from Silvergate Media, the creators of CBeebies' Octonauts.

More than 2m fans watched England's Euro 2016 clash with Wales via the BBC Sport website yesterday, smashing the site's previous record.

Broadcasters are divided on the merits of original online content commissions, but agree that experimentation is key to reaching audiences in new ways, according to a future-gazing panel at Broadcast's Media Summit.