Alex Farber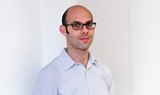 Alex joined Broadcast as senior reporter in February 2010 from New Media Age magazine. He covers Channel 5, multichannel, digital and radio.
He also edits the multiplatform page of the magazine.
http://twitter.com/alexfarber
Contact Info
Alex Farber
Web Editor
The BBC is to invest £100,000 in immersive virtual reality ideas to trial via BBC Taster - its online testing ground for innovative projects.

Sky is establishing a technology base in Leeds which will be focused on developing its next wave of digital products and services.

Maker Studios has commissioned its first pilot from a UK indie – a GamesMaster-style video game show produced by Somethin' Else.