Alex Farber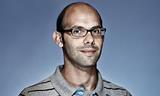 Alex joined Broadcast as senior reporter in February 2010 from New Media Age magazine. He covers Channel 5, multichannel, digital and radio.
He also edits the multiplatform page of the magazine.
http://twitter.com/alexfarber
Contact Info
Alex Farber
Web Editor
BBC1's coverage of the death of Nelson Mandela was seen by a peak audience of 6.1m on Thursday.

Viewers will be able to submit their own questions to Channel 4 News guests as part of an online spin-off pilot.

Farm Kitchen and Monastery Farm fell to series lows as I'm A Celebrity continued to hoover up viewers on Wednesday.