Alex Farber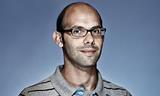 Alex joined Broadcast as senior reporter in February 2010 from New Media Age magazine. He covers Channel 5, multichannel, digital and radio.
He also edits the multiplatform page of the magazine.
http://twitter.com/alexfarber
Contact Info
Alex Farber
Web Editor
THURSDAY: The conclusion of Gillian Anderson's BBC2 drama The Fall arrested a series high of 2.5m.

SATURDAY: Tomorrow's Worlds bowed out with an average of almost 700,000 on BBC2 as Strictly Come Dancing beat The X Factor by almost 1.5m viewers.

Don't Tell the Bride is set to leap to BBC1 after BBC3 revealed plans to scrap its factual entertainment formats.