Alex Farber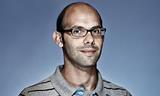 Alex joined Broadcast as senior reporter in February 2010 from New Media Age magazine. He covers Channel 5, multichannel, digital and radio.
He also edits the multiplatform page of the magazine.
http://twitter.com/alexfarber
Contact Info
Alex Farber
Web Editor
A Got To Dance spin-off series which was distributed on Facebook notched up 17,000 views on the social media site.

Shine-owned multi-channel network (MCN) ChannelFlip has drawn up ambitious growth plans, including proposals to work with rival networks' YouTube stars, the launch of a talent agency and a children's service.

BBC Worldwide is planning a renewed push on its UK indie investment strategy, according to chief executive Tim Davie.