Alex Farber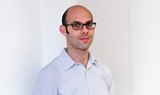 Alex joined Broadcast as senior reporter in February 2010 from New Media Age magazine. He is responsible for overseeing the Broadcast website.
He also edits the multiplatform page of the magazine.
http://twitter.com/alexfarber
Contact Info
Alex Farber
Web Editor
Don't Tell The Bride will to move to Sky 1 next year after the Renegade Pictures format was unsettled by BBC3's digital switch.

The Apprentice has dominated online viewing over the past four weeks – accounting for four of the top 10 most-watched shows on-demand.

AOL is hunting for a handful of short-form video series as it aims to take on Vice News by commissioning UK content for Huffington Post for the first time.