Alex Farber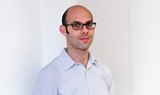 Alex joined Broadcast as senior reporter in February 2010 from New Media Age magazine. He is responsible for overseeing the Broadcast website.
He also edits the multiplatform page of the magazine.
http://twitter.com/alexfarber
Contact Info
Alex Farber
Web Editor
Fifth Gear is gearing up for a move to its fourth new home after coming to an end on A+E Networks.

The BBC has fired the starting gun on its Rio 2016 coverage – revealing plans to offer more than 3000 hours of Olympics coverage across multiple platforms.

Andrea Hamilton, the former executive producer of Strictly Come Dancing, has set up a joint-venture indie with Chinese producer 3C Media.