Alex Farber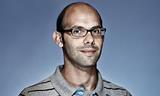 Alex joined Broadcast as senior reporter in February 2010 from New Media Age magazine. He covers Channel 5, multichannel, digital and radio.
He also edits the multiplatform page of the magazine.
http://twitter.com/alexfarber
Contact Info
Alex Farber
Web Editor
StyleHaul is to accelerate its growth plans, including the development of 10 online pilots with Fremantle Media, after RTL Group invested nearly £80m in the multichannel network (MCN).

TUESDAY: BBC1 drama The Missing stumbled for the first time as the international football clash between England and Scotland netted a high of 7.7m.

BBC nations and regions chief Peter Salmon has urged media businesses to open offices outside of London to keep in step with audiences.