Alex Farber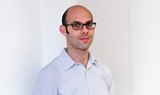 Alex joined Broadcast as senior reporter in February 2010 from New Media Age magazine. He is responsible for overseeing the Broadcast website.
He also edits the multiplatform page of the magazine.
http://twitter.com/alexfarber
Contact Info
Alex Farber
Web Editor
MONDAY: Channel 4 fishing documentary The Catch netted 1.5m as AMC launched with zombie spin-off Fear The Walking Dead.

BBC Worldwide has partnered with YouTube talent Caspar Lee and Joe Sugg to produce a feature-length programme overseen by the team behind the Top Gear specials.

George Faber is to produce a Channel 4 drama series which will explore the impact on a fictional public figure after they are accused of historical sexual misconduct.