Alex Farber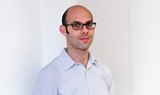 Alex joined Broadcast as senior reporter in February 2010 from New Media Age magazine. He is responsible for overseeing the Broadcast website.
He also edits the multiplatform page of the magazine.
http://twitter.com/alexfarber
Contact Info
Alex Farber
Web Editor
BBC director of radio Helen Boaden is preparing to announce her retirement – a move that would allow the corporation to finalise its management reshuffle.

News UK has completed its acquisition of TalkSport and Virgin Radio owner Wireless Group.

The BBC's future-thinking R&D department has created a holographic TV experiment inspired by the infamous Princess Leia scene in Star Wars.