Alex Farber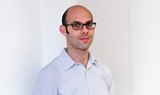 Alex joined Broadcast as senior reporter in February 2010 from New Media Age magazine. He is responsible for overseeing the Broadcast website.
He also edits the multiplatform page of the magazine.
http://twitter.com/alexfarber
Contact Info
Alex Farber
Web Editor
THURSDAY: The Apprentice fell to its lowest audience on record as it struggled against fierce competition from I'm A Celebrity…Get Me Out Of Here.

Channel 4 has launched an app for kids based on its forthcoming picture book adaptation We're Going On A Bear Hunt.

WEDNESDAY: The Missing bowed out with its second-highest performance of the series but struggled to match the success of the debut run.