Alex Farber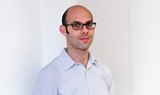 Alex joined Broadcast as senior reporter in February 2010 from New Media Age magazine. He is responsible for overseeing the Broadcast website.
He also edits the multiplatform page of the magazine.
http://twitter.com/alexfarber
Contact Info
Alex Farber
Web Editor
Freeview is aiming its connected-TV proposition at the 11 million homes that fall between those firmly committed to either pay- or free-to-air TV.

Factual channel PBS America is to move from pay-TV to free-toair after striking a deal with Freesat.

TUESDAY: E4 sitcom Chewing Gum proved to be the stickiest show in a crowded evening on multi-channel with rival programme launches on BBC3, BBC4, and ITV2.