The secret flirting techniques of capuchin monkeys will be highlighted in a two-part documentary series for BBC1.

Cuckoo and Man Down comedian Greg Davies is to preside over a Dave adaptation of comedian Alex Horne's Edinburgh Festival Fringe show Taskmaster.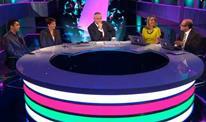 THURSDAY: BBC1's coverage of the Scottish referendum peaked with nearly 5m as viewers waited for the results to start being announced.