Dave Grohl is to front a rock doc on BBC4 after the channel swooped for an eight-part series from the Nirvana and Foo Fighters' star.  

Blinkbox has been put up for sale by Tesco just three years after it acquired the video streaming service.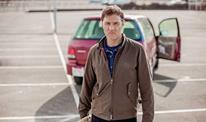 TUESDAY: BBC1 drama The Driver shed around 700,000 viewers, as Manchester City's Champions League clash with Roma peaked with 4m.