Obituary: Witold Starecki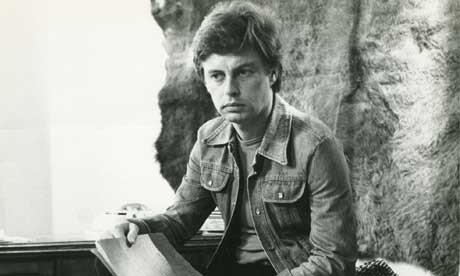 Witold Starecki was a film-maker who came to the UK from Poland in the mid-Eighties and won huge critical acclaim for a host of memorable films.
Born: 26 January 1947
Died: 15 July 2011
Film-maker Witold Starecki began his career at the famous Polish National Film School at Lodz. One of the stars of his year at Lodz he went on to build a formidable reputation in Poland before coming to the UK in the 1980's to further his film making career. 
Starecki came to Britain with a film project he had been trying to pull off for several years. He was then lucky enough to make the acquaintance of Roger Mills, the legendary head of the Fourty Minutes documentary strand at the BBC. Mills commissioned Starecki to make the wonderful documentary Asylum - the two become life-long friends. 
Asylum had a huge impact and was credited with changing the way documentaries were made. It garnered praise and admiration from all quarters and launched Starecki's successful film making career in the UK.  He went on to make another equally memorable film for Forty Minutes - Forget-Me-Not about the first ever Miss Poland competition.  The Guardian's review concluded after seeing Forget Me Not that Starecki "only made masterpieces."  
His next film was called "Cannon in Flowers" a beautifully poetic and poignant film about a world famous Chopin music competition commissioned by Alan Yentob and Lesley McGaghey. 
Next came Pears on a Willow Tree, a three-parter for BBC about the collapse of communism in Poland – "brilliantly filmed" by this "gifted Polish director".
By this time Jeremy Isaacs at Channel 4 was courting Starecki to come and make films for the broadcaster. Next followed a feature length documentary for Channel4's True Stories – the "matchless," "riveting,"  "extraordinary" Dog Eat Dog about animal smuggling in Russia.
After these successes Starecki then tried a completely different type of film-making – he joined forces and formed a company with Ruby Wax to make an award winning 90-minute special for BBC2 called Ruby Takes a Trip.
There then came a series of high profile, critically acclaimed films for Channel 4's Witness strand – True Love Waits, Manhunter, Blooming Youth and Going Straight. 
As the documentary world changed towards the end of the nineties and films became more formatted and less "authored" Witold continued to pursue his own projects but he also began teaching. He landed a post as a senior lecturer at Thames Valley University where he was much loved and admired by fellow teachers and students alike for his undying love of film and his ability to nurture and find talent amongst his students.
Personal life – his partner for 16 years was fellow film-maker Sue Bourne. They have a daughter, Holly Bourne Starecka and remained close friends to the end. He is survived by Holly, Basia, his daughter from an earlier relationship, his mother Celina, sister Gosi and his partner of the last few years, Emma Roberts.
Comments from Roger Mills
Former Editor of Fourty Minutes
Producer of some of the most memorable documentaries of the last 50 years, including the Michael Palin films
"In the 1980s I was the Editor of 'Forty Minutes', which show-cased documentaries on BBC2. I had heard of Witold Starecki, a graduate of Lodz Film School, who made films of high quality and individuality despite restrictions of the highly-communist-government-regulated Polish TV.
I met him in Warsaw on a recce and we were driven by Polish TV to Bialystok. We did not speak. Witold was afraid of being overheard, and that his words could be used against him and he would be prevented from coming to the West.
I felt I was in the presence of a unique talent, and negotiated an attachment for him in London, where he made his debut film for 'Forty Minutes'. His film – 'Asylum' was set in Bialystok mental institution. There followed a dazzling array of documentaries.
Witold brought to the BBC a new way of making films. They spoke with an East European intensity and subtlety. Few could match his originality and sly wit.
He had that creative spark that distinguishes the journeyman from the genius. He probably thought the standard BBC documentaries lazy and formulaic, though he was too much of a gentleman to say so. Witold's manners were impeccable.
His standards were impossibly high. He probably never achieved them himself. After seeing the much-acclaimed 'Amadeus', he sighed, shook his head and said, 'Milos Foreman is getting old'."
George Carey 
Editor Panorama/Newsnight, founder Barraclough Carey / Mentorn
Witold had a rare gift for friendship which, like his gift for film-making, came from ignoring convention. He was already acclaimed as a director of true originality when I met him in the late '80s, but he had none of the self-regard that often comes with such success.
That Christmas he founded what he called his Herring Club, based on a Polish custom (so he said) which allowed the men to go off  'to check the herrings' while the women prepared the coming feast. Translated into English, the Herring Club was his way of keeping his eclectic circle of friends together.
Every Christmas after that, Witold assembled another gathering, old regulars spiced with new, to laugh, eat and return home gently soused.  He had no self pity in adversity, never raged against the ill fortune of getting ill. Everything he did was suffused with warmth, openness and almost old-fashioned charm. It made him the great director he was, and also the great friend.
Sue Bourne
Film-maker / former partner
Every so often in life you meet someone exceptional. You know there is something special about them almost as soon as you meet them. That was the way it was with Witek when I met him in the corridors of the BBC's Kensington House.
I had seen Asylum and I defy anyone who knows that film not to agree it was quite exceptional. It changed the way I thought about film-making. And about the way you tell stories.  Witek knew how to do it and he had a very different and unusual way of looking at the world. 
I always loved the Guardian reviewer who said "Witold Starecki, who only makes masterpieces"… He had a remarkable talent as a film maker. There was a time in the 80's and 90's  when that type of talent and skill was held in high regard by everyone. His films were keenly awaited and talked about. We all wanted to make films as good as his ones.
I was lucky also to be his partner for 16 years. We had Holly together and we made a pretty good team. He loved making his films and he was away a great deal. But I always reckoned it was better being in the company of Witek for a short time than having longer with someone less interesting. 
In the end we ran out of steam but we remained pretty good friends in the intervening years. He was a fantastic father to Holly and over the last decade the two of them forged a great and close relationship that will I am sure stand her in good stead in the years ahead. He will be sadly missed by all who encountered him.