Katherine Rushton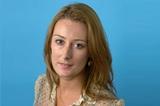 Katherine is chief reporter at Broadcast magazine and Broadcastnow.co.uk. She writes news and features for the magazine, covering the BBC, children's TV, and key superindies including Shine Group, RDF Media, All3Media, IMG and DCD Media. Please contact her with stories regarding any of these companies, as well as general industry issues. Katherine is also a regular paper reviewer for BBC News and has written for The Telegraph, The Independent, The Guardian and Time Out. Before joining Broadcast in 2007 she was senior reporter at the publishing trade magazine, The Bookseller.
Contact Info
Katherine Rushton
Chief Reporter
He's produced some of the seminal kids' TV shows of the past three decades, and the long-serving director of children's at Five is not afraid to speak his mind.

BBC3 is to make its first foray into science with a CGI series about the effects of drugs on the human body.

Worzel Gummidge and RentaGhost are unlikely to get a new lease of life any time soon, after indie RDF Media decided not to renew its option to adapt the kids' classics.