THURSDAY: The second part of Channel 5's Autopsy trilogy smashed slot average, only losing out to the Commonwealth Games, while Noel Fielding's second run of Luxury Comedy made a slow start.

WEDNESDAY: BBC2's three-part history documentary of The Stuarts got underway with 1.3m - down on the channel's audience for The Plantagenets earlier this year.

TUESDAY: The Dog Rescuers, Holby City and 56 Up performed steadily in a low key night dominated by Commonwealth Games coverage.

MONDAY: Channel 5 and BBC3 performed solidly with tabloid TV documentaries Blinging Up Baby and Tulisa: The Price of Fame.

SUNDAY: BBC2's documentary about the Red Arrows transported 2.4m as Channel 4's The Mill dipped by 200,000 from last week's opener.

SATURDAY: BBC1's Commonwealth Games coverage peaked with 3.7m (22.6%) as England's Adam Peaty picked up gold in the men's 100m breaststroke final.

THURSDAY: Channel 4's The Secret Life of Students and Channel 5's Black Market Britain endured disappointing climaxes as the Commonwealth Games grabbed the lion's share of the peak time audience.

WEDNESDAY: BBC1's coverage of the Commonwealth Games opening ceremony peaked with over 9m viewers and dented the rest of the schedule.

TUESDAY: Channel 4's audience for thriller Utopia remained steady although it was outperformed by Sarah Millican on BBC2 and Channel 5's Big Brother.

MONDAY: ITV's Long Lost Family saw off competition from John Bishop's Australia on BBC1 to win the 9pm slot, while Channel 4's Royal Marines doc held steady.

FRIDAY: BBC2's First Night of the Proms audience fell from last year's opener while Channel 4's The Million Pound Drop leapfrogged Channel 5's On the Yorkshire Buses.

SUNDAY: The live broadcast of Monty Python's final-ever performance has become the highest-rated show to air on Gold.

THURSDAY: ITV's documentary about Britain's Poshest Nannies could only muster half the channel's slot average as Celebrity Masterchef drew its best audience of the series.

WEDNESDAY: Channel 4 comedy drama The Mimic returned for a second series with less than half the audience of the first series opener.

TUESDAY: Too Many Immigrants fell around 2m short of BBC1's slot average - as BBC3's Glasgow Girls outperformed Channel 4's Utopia.

MONDAY: Channel 4's conspiracy drama Utopia returned with its lowest audience yet, as Long Lost Family was back with 4.9m.

FRIDAY: Channel 5 ob-doc On The Yorkshire Buses drove off with an audience of 1.2m – just above the return of The Million Pound Drop on Channel 4.  

SATURDAY: Jacques Peretti's latest instalment of The Men Who Made Us… franchise failed to repeat its previous success for BBC2.

SUNDAY: Germany's World Cup triumph over Argentina peaked with a combined share of over 75% as a high of 20m viewers tuned in to the final.

THURSDAY: ITV's one-off doc about luxury health spa Champneys fell well short of slot average despite the absence of World Cup football.

WEDNESDAY: ITV's coverage of Argentina v Holland didn't quite hit the heights of the first semi-final on Tuesday, although it did score a peak of 12.7m (52.3%)

TUESDAY: Germany's 7-1 defeat of Brazil was the most watched non-England game of the World Cup.

MONDAY: E4's latest US acquisition The 100 has become the digital channel's biggest ever programme launch, beating the previous high set by Skins.

MONDAY: Channel 5 saw off competition from ITV, Channel 4 and BBC2 with the penultimate episode of Benefits Britain.

SATURDAY: The Tour de France got underway in Leeds with almost 1m viewers on ITV - taking a chunk out of the women's singles final at Wimbledon.

SUNDAY: Novak Djokovic's Wimbledon win peaked with a crowd of 10m, well down on the 17.3m that watched Andy Murray's victory in 2013.

FRIDAY: Brazil's victory over Colombia peaked with 10m viewers, making it the highest-rated quarter final of the World Cup.

THURSDAY: BBC2's Maggie Gyllenhaal drama The Honourable Woman made a solid start, as Channel 4's The Secret Life of Students failed to make a big impression.

WEDNESDAY: ITV's hard-hitting documentary The Betrayers fell well short of slot average and was beaten by Celebrity MasterChef on a football-free night.

TUESDAY: The final episode of Channel 4's The Auction beat BBC2's Shop Girls – as the World Cup coverage peaked with 8.6m.

MONDAY: Channel 4's weight-loss documentary The World's Best Diets found a solid, mainly female audience against Germany's World Cup defeat of Algeria.

SUNDAY: Dolly Parton's star-turn at the Glastonbury festival was the festival's most watched performance of the weekend.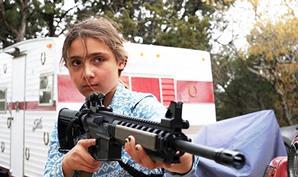 "The film seemed more like a hillbilly freak show, suggesting that trailer-trash, rednecks and vets self-evidently don't mix with the American right to bear arms"