The all-encompassing campaign was complimented by the judges for its "success in driving audiences through innovative execution of a comprehensive audience-first strategy".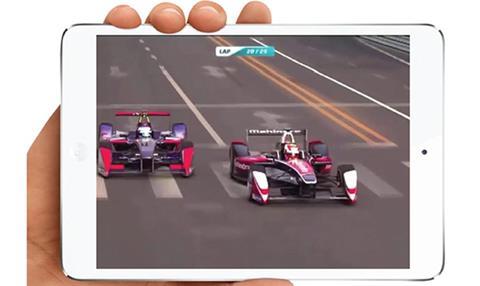 Little Dot Studios, Aurora Media Worldwide and Partners for Formula E
For the second season of Formula E, ITV and Little Dot specifically targeted a millennial audience, with new content released every day across social media.
Race highlights, from short-form clips to 52-minute segments, were released on platforms including YouTube, Facebook and Dailymotion. When ITV was not broadcasting live, streams of races were available on Facebook and YouTube, while Grabyo was used to publish major incidents.
Additional content including interviews, behind-the-scenes videos, list videos and infographics was made available on a daily basis, a dedicated app was created and an innovative multi-camera live-streaming initiative was launched. ITV also offered the world's first 360-degree sports highlights. The campaign introduced Snapchat engagement at all races, with exclusive behind-the-scenes access that amassed more than 50,000 views per race weekend.
The campaign also sparked a 19% increase in US viewing, from 10% in season one to 29% by January 2016.
The all-encompassing campaign was complimented by the judges for its "success in driving audiences through innovative execution of a comprehensive audience-first strategy". It was also hailed for being "planned and executed to a high standard" and for making "a real difference".
SHORTLISTED
CORONATION STREET LIVE: ACCESS ALL AREAS
Coronation Street digital team and ITV Studios for ITV
The 'behind-the-scenes' live episode for ITV's 60th anniversary gave millions of people the chance to take a virtual step onto the cobbles. The ITV digital team placed 11 hidden cameras across the eight-acre production site and implemented innovative second-screen interactivity.
DAVID ATTENBOROUGH'S GREAT BARRIER REEF: AN INTERACTIVE JOURNEY AND VR EXPERIENCE
Atlantic Productions and Natural History Museum for BBC One
David Attenborough and Atlantic Productions teamed up with scientists and academic institutions from around the world to create two major digital projects: an interactive website and a virtual-reality experience. The VR fi lm launched at the Natural History Museum to critical acclaim and weeks of sold-out shows, while the website received more than 350,000 views.
ECLIPSE LIVE: A STARGAZING SPECIAL
BBC Science Production London for BBC Two
Viewers were directed to Stargazing's website during this special episode to experience a wealth of bespoke content about the biggest astronomical event seen in Britain's skies for a decade. The website received a record 321,000 weekly visitors, the eclipse clip on the BBC One Facebook page reached more than 45.9 million global users and the live blog amassed 2.2 million views.
I'M A CELEBRITY… GET ME OUT OF HERE!
Tellybug & Tectonic for ITV
In 2015, ITV online ramped up I'm a Celebrity's digital campaign with the goal of increasing digital engagement by 20% year on year. This included creating a strong visual identity for social media platforms, tailoring content to appropriate platforms to maximise impact, increasing playalong and social interaction, and enabling in-app voting.
THIRTEEN
BBC Drama Production London and BBC America for BBC Three
To support the launch of BBC Three's first drama, the BBC's content innovation unit created two experiences to bring the audience closer to the show: Thirteen Lost Years (55,000 visits) and #Findthegirl (114,000 visits). The campaign led to the biggest day on Twitter for BBC Three, with one video asset returning 22,000 impressions and 2,540 views.