"Some will live, some will drown. So far, they'll none of 'em be missed." Read on for the verdict on last night's TV.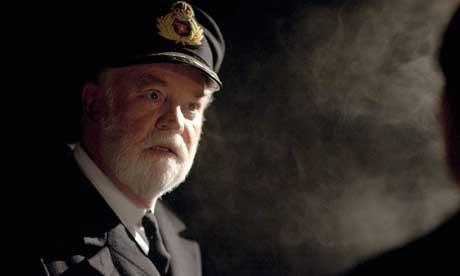 "The three stars stand. The dialogue turns out to be mostly functional, heavy with dramatic ironies…It is rarely lifted by wit… Visually, Titanic is adequate rather than spectacular, the cabins and dance floors TV-small, far from James Cameron's panoramas. But the real design fault is Fellowes: by introducing disaster 30 minutes into each of Titanic's four episodes, even his economy of quill struggles to involve us in his characters, let alone to persuade us to like them. Some will live, some will drown. So far, they'll none of 'em be missed."
Andrew Billen, The Times
"The problem with this four-part series, if I dare be rude about such a costly and over-hyped creation, is that it isn't quite a disaster movie nor quite a drama either."
Matt Baylis, Daily Express
"This is Fellowes as we know him – a combination of punctilious details of etiquette and flagrantly implausible breaches of it."
Tom Sutcliffe, The Independent
"This is only show one and we're already at the [talent] level of an X Factor/BGF final…Tension too, because it really builds when you're waiting to see if anyone turns or not… What it doesn't have is the pantomime early stages, with all the really crap acts and the judges shaking their heads and rolling their eyes [which] might make it less fun.
"I enjoy that part; and it gives the whole series a sense of progression, from rubbish to quite good. The danger here is that it's starting so strongly, musically, that there's nowhere to go, no journey.…If there is a problem with The Voice it's probably that – a lack of humour, or joy outside the music."
Sam Wollaston, The Guardian
"It suffered from too much ­concept, too much obvious concern for his delicate talent… But that doesn't really matter. Because Whitehall is funny for what he's not, as much as for what he is…He's a nice-looking toffette, and that's funny all on its own."
AA Gill, The Sunday Times
"Toby Whithouse's drama has grown its own vast Doctor Who-sized mythology out of its humbler, and in many ways more satisfying, origins as a sort of left-field flat-share sitcom."
Gerard Gilbert, The Independent
THE FALKLANDS' MOST DARING RAID, C4
"All jolly good fun, as long as you remember that none of this was really ­history: this was high-cholesterol, nation-fattening bedtime stories."
AA Gill, The Sunday Times
RETURN TO THE FALKLANDS, ITV1
"It set out to per­sonalise history for those who don't want television to teach them anything."
AA Gill, The Sunday Times
TOUCH, SKY1
"It's monumentally numbing nonsense, and how any of them got through a scene without howling with laughter and demanding to know which grade the scriptwriter had got to is beyond me… But there is probably an audience among those slack-jawed kids who live off internet conspiracy and the ultra-reality of computer games."
AA Gill, The Sunday Times