NAB 2015: Adobe is previewing updates to its video offerings at NAB, including a new colour panel and a 'magic' fix to remove unwanted pauses and jump cuts in edits, as well as new character animation capabilities.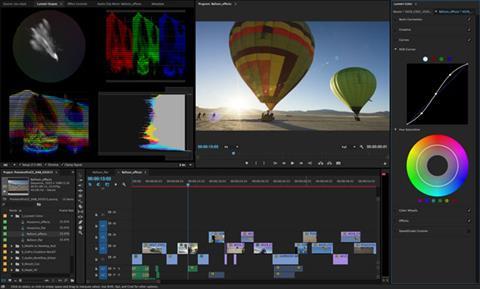 The new Lumetri Color panel in Premiere Pro CC offers a colour workflow that combines Adobe grading technologies with greater ease-of-use, allowing editors to more rapidly achieve great results for simple colour corrections or complex looks.
Morph Cut in Premiere Pro CC takes out unwanted pauses and jump cuts, while Time Tuner in both Premiere Pro CC and Adobe Media Encoder CC automatically adjusts the duration of a video to a pre-set length while maintaining high quality results.
A new Face Tracker in After Effects CC can track facial gestures for greater masking accuracy.
Another new utility, Adobe Character Animator, tracks the movement of the user's head, mouth and eyes in front of a webcam and can trigger bodily movements using a keyboard to ensure characters are as lifelike as possible.
In addition, the company is previewing Project Candy, a mobile CC Capture app that uses a smartphone camera to capture production quality lighting schemes and then apply them to video footage in Premiere Pro CC.
Creative Cloud users also gain immediate access to shared creative assets with new Creative Profile support in Premiere Pro CC, After Effects CC and a growing set of Creative Cloud enabled mobile apps.
At NAB, Adobe is also announcing significant enhancements to Adobe Primetime, which powers TV content across screens including OTT devices such as Apple TV and Roku. Specifically, Adobe is unveiling innovations in video delivery, monetisation and personalisation to enable new OTT business models for content owners, programmers and pay-TV providers.
Adobe is working with MLB Advanced Media (MLBAM) to power live streaming of the U.S. Major League Baseball season, providing playback and delivery capabilities for all games. Several of MLBAM's sports, news and entertainment partners have introduced the first direct-to-consumer TV apps leveraging Adobe Primetime technologies. Additionally, the company revealed Turner Broadcasting is using Adobe Primetime for ad insertion on Apple TV and other OTT devices.
Adobe is also previewing a new configuration for Adobe Anywhere, its collaborative workflow platform that enables distributed teams using products such as Premiere Pro CC and Adobe Prelude CC to work together. Teams utilise centralised media and shared projects to efficiently shoot, log, edit and finish video productions.
These updates are expected to ship in the coming months. The company is currently offering a special offer aimed at video professionals who switch to Adobe Creative Cloud, for £26.68 a month for the first year.