Al Jazeera English is gearing up to go live this month from its new European broadcast hub in London.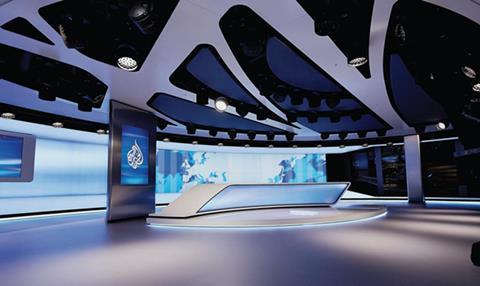 The 28,000 sq ft "multimillion-pound" facility, which is housed in the Shard building at London Bridge, will be the Qatar-based news broadcaster's largest outside of Doha. Al Jazeera will now close its Knightsbridge and Westminster offices, with 200 staff being moved to the new site.
Al Jazeera manager of technology for Europe Anil Chaman said the move was part of a wider technical overhaul across the news group. The broadcaster's Doha and Washington DC sites are also undergoing a technology refresh.
"There has been a high-level drive to unify the technology we use across all channel streams. This build is the second generation of our file-based workflow," he said.
Al Jazeera's broadcast centres in London, Doha and Washington are connected by private fibre network to allow file-based content to be moved between sites. The London base has also been designed to operate as a disaster recovery centre and is capable of running the news outfit's entire schedule.
Al Jazeera worked with ATG Danmon and the Danmon Systems Group on the fit-out of the facility.
The main news studio incorporates live backdrops, as well as an Eyevis LED video wall and touch screens. Avid systems in use include iNews for newsroom automation. Avid's Media Composer, Symphony and Pro Tools systems are split among 12 edit suites, while two Calrec Artemis audio desks have also been installed.
The two production galleries feature Sony vision mixers, with six Sony HDC-1500 cameras, as well as a wireless camera channel providing roving shots from the studio floor. The facility's talk-back system was provided by Riedel.