The Foundry chief executive Alex Mahon tells George Bevir what she has been doing since she joined the software firm 10 months ago, and why she believes VR will succeed where 3D failed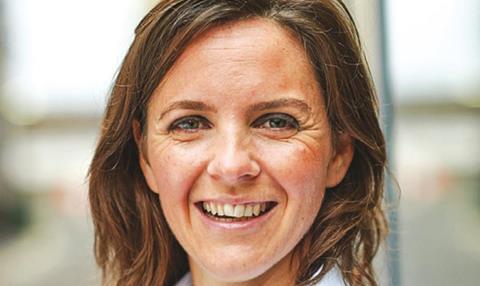 Virtual reality (VR) is high on the agenda at The Foundry. Chief executive Alex Mahon has been speaking about the immersive medium at conferences this summer, including IBC, where she will deliver a talk entitled 'From TV to VR: New Content Frontiers'.
It's an apt title; Mahon has said that we are still in the "cowboy" days of virtual and augmented reality, and that she believes it will take three or four years for VR to be "massive".
Why? Because more time is needed for the hardware to catch up with producers' ambitions and audiences' expectations.
"With VR, it is hard to get past the image of a massive clunky headset and a big computer driving the experience, so you have to fast-forward a few technology cycles to smaller hardware," she says.
"We are still in the extremely early days where people are experimenting. Tech providers need to be a part of this phase to understand where it is likely to go, and to help develop tools [producers and content creators] want to work with."
The future strategy of the company, and in particular which software areas it moves into next, has been Mahon's priority since she was appointed chief executive of the London-headquartered software developer in November last year.
Mahon, who replaced Bill Collis as chief executive (Collis is now president and board member), previously led MasterChef, Broadchurch and Spooks production giant Shine.
During her time at Shine, she helped to build it into a business operating in 12 countries with revenues of £700m before its sale at the end of 2014.
Making the transition from boss of a production company to chief executive of a software developer isn't an obvious move. But taking the helm at The Foundry presented an opportunity to combine her experience of leading creatives with her background in technology.
Mahon started her career as a physicist before working as an online retail expert during what she describes as "the first big internet wave".
When asked about the move to The Foundry, she points to the parallels between her previous roles and her current position, and says the "unusual" opportunity was not something to be passed up.
"There is a lot of change in technology, so it is vital for tech firms in London and on the West Coast of the US to be able to grow quickly and be entrepreneurial, and those were skills that were required in the production community over the past 20 years. So there is a natural match of skills.
"The Foundry is a business that owns IP, and I have always been involved in international businesses with IP."
Given Mahon's background, it is not surprising that her favourite aspect of working at The Foundry is visiting the likes of Pixar or ILM and speaking with VFX supervisors on set to understand the challenges they face.
Mahon describes The Foundry's software as "world-renowned", citing its use on recent features Interstellar, Lord Of The Rings and Star Wars (according to The Foundry, since 2008, every film nominated for an Oscar for Best Visual Effects has used its solutions).
The Foundry is arguably best known for its compositing toolset Nuke, which is not only used for Hollywood blockbusters but is also a key tool for TV VFX teams, from the production of titles for Dragons' Den and Euro 2016, to the creation of effects in dramas such as Channel 4's Humans and Sky's fantasy sitcom Yonderland.
Nuke was also used on The Hollow Crown, BBC2's adaptations of Shakespeare's history plays.
The question Mahon is now concerned with is how The Foundry can move beyond that. The answer could lie in finding new markets that can benefit from the firm's skills in developing image-processing software.
One area in particular is what Mahon refers to as "the Rs": virtual reality, augmented reality, mixed reality and 360- degree video.
She compares VR and 360-degree video to the early days of platforms such as YouTube and Netflix, with producers creating content that might not be particularly lucrative, but that helps them learn more about the medium.
"No one is paying [producers] for making content, and they are not in the business of making things on spec. For something like VR, you need huge technical knowledge for things like setting up camera rigs and handling the data, and you need someone who is prepared to experiment with the authoring vernacular and willing to try to answer questions about how best to make cuts and how to transfer between scenes. These things are yet to be solved."
Technological advances
Mahon acknowledges that there is a chance VR could be subject to the same boom-andbust cycle as 3D.
However, there are some key reasons why VR is more likely to be a success, including greater computing power, improvements in bandwidth, the use of different devices and the greater amount of data that can be stored in the cloud.
"I can see how using AR would help to sell things, so there is definitely a retail opportunity for car manufacturers, kitchen makers and so on. And I can see why if I was an architect or engineer, it would be interesting to me where 3D wasn't.
"For gaming, it is a better experience, and heavy gamers are always looking for ways to connect more deeply to the games they play. I can see why it would be more exciting to experience VR than a static screen because it is a more authentic experience. But is it interesting to watch long-form content on? Is it a better experience?"
What is needed, Mahon says, is content that harnesses the capabilities of technology in an instinctual way.
"When we saw Angry Birds, we all thought it really worked on an iPad; pulling back the catapult felt intuitive on a touch screen. More recently, Pokemon Go makes sense on a smartphone. But I haven't seen any content that really works in VR."
Cara VR
The Foundry's role is to make sure that the right tools for creating VR, AR, MR and 360-degree content are available to those who want to experiment with the format. After a preview of virtual and augmented reality (VR/AR) content-creation tools at NAB in 2015, at this year's Las Vegas trade show, it launched the public beta of Cara VR, a plug-in toolset for its Nuke compositing software for the creation of virtual reality content.
Although Nuke was already being used on VR projects, Cara VR was launched with the aim of streamlining 360-degree video and VR workflows.
It includes stitching tools to allow for the merging of different video sequences into a 360-degree view, as well as tools for matching exposure and colour balance between cameras, and compositing workflows that allow artists to work in a spherical image space to place virtual elements in a real-world environment.
The software has presets for camera rigs including the Freedom 360 and Nokia Ozo, and artists can review their work as they go via an Oculus Rift headset.
Cara VR was used by Italian production company Radical Plans on No Borders, a VR documentary about refugees arriving in Italy that premieres at the Venice Film Festival in September.
The premiere will coincide with the launch of The Foundry's five part How To series of videos, which will offer a behind-the- scenes look at the making of the documentary, with the aim of providing an understanding of how 360-degree films are made and the potential of the medium.
Another area highlighted by Mahon as a sector that the Foundry can push further into is industrial design.
It is a space where The Foundry already has a presence – Mahon estimates that "visualisation" accounts for around 20% of its business – but she is keen to use the company's skills and experience in image processing to even greater effect for designers.
The Foundry's Modo, which it acquired from Luxology (see box), is a suite of tools for modelling, texturing and rendering, used for gaming, film and TV, such as 13-part US science documentary Cosmos: A Spacetime Odyssey.
But it is also used to create packaging for fast-moving consumer goods (FMCG) such as make-up, chocolates and whiskey, and to design sunglasses and running shoes.
3D modelling
Moving packaging design from 2D applications such as Photoshop to 3D helps to avoid the need to create mock ups that then need to be photographed.
"We are doing some work with Adidas to create a shoe designer for them," says Mahon.
"It's fairly easy to model a car because it consists of hard shiny surfaces, but trainers are made of soft fabric, so it is hard to get a shoe looking as it will actually turn out. "People make a 2D sketch with paper and pens or computers and the prototypes are made in China and then sent back to the design team.
"You can have a situation where there are containers of prototypes travelling back and forth, which could be avoided with a more photo-real image as the factory can create something that is much closer to a designer's intention.
"Those skills of representing something with a computer asset are what can come from VFX, and those skills of creating something believable and real for a movie or TV show can go into shoe design, or the creation of a wing of a plane. They are the same kind of skills."
Since it was established 20 years ago, The Foundry has grown as a result of its own innovation and IP, but also through mergers and acquisitions and licensing deals with the likes of Disney, Weta Digital and Sony Pictures Imageworks (see below). Mahon left Shine in 2014 following the merger of Shine Group with Endemol. The deal was her second major transaction, after Shine was sold to 21st Century Fox in 2011, so she is well placed to continue The Foundry's acquisitive approach.
"We have a long track record of bringing products in from elsewhere so we will continue doing that," she says.
"Whether acquiring or investing, there will be a dual track record of organic and inorganic growth. We are massive believers in media, TV and the fi lm industry, and we will continue to be thought leaders as we explore and experiment in other areas."
The Foundry – key dates
1996
Established by Bruno Nicoletti and Simon Robinson. First products are Tinder, Furnace, Keylight and Anvil plug-ins.
2004
Launches OpenFX along with Assimilate, Autodesk, Digieffects, FilmLight, Genarts and RE:Vision FX.
2007
Wyndcrest Holdings buys The Foundry for £5m. The Foundry takes over development and marketing of Nuke, which had been developed in-house by Digital Domain.
2010
The Foundry's first product, Tinder, is sold to GenArts.
2009
The Foundry's management team buys the company back with the backing of Advent Venture Partners. It also acquires Sony Pictures Imageworks' Katana software package.
2011
Private equity firm Carlyle acquires The Foundry, which teams up with Weta Digital to incorporate the Mari 3D texture painting software into its compositing system Nuke.
2012
The Foundry merges with Luxology, the US software developer of Modo, with the aim of selling Modo to non-VFX users.
2014
The Foundry is put up for sale by the Carlyle Group.
2015
The Foundry is acquired by private equity firm HgCapital for £200m.