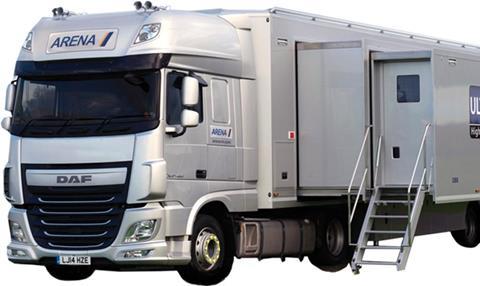 Arena Television is hoping to steal a march on its outside broadcast rivals by building three Ultra High Definition-capable (UHD) trucks with an IP core that can handle High Dynamic Range (HDR) and High Frame Rates (HFR).
The triple-expanding OBX, OBY and OBZ units will cost a combined £20m and will each have a flexible IP-based production infrastructure rather than use traditional point-to-point base-band video. The first truck, OBX, is currently being kitted out ready for testing in April.
None of the UHD OB trucks on the market in the UK currently has an IP core. Most have a Quad HD-based set-up that requires four streams of HD-SDI video to be combined to create each UHD signal.
Arena managing director Richard Yeowart told Broadcast that having IP-based trucks could help his company leapfrog some of its rivals.
"I think the people that are having to build trucks for contracts at the moment are probably having to go down the Quad HD route, which is great," said Yeowart. "It works. But the vision mixer has to work very hard because of the need to have four inputs and four outputs. In the long term, IP is going to be more powerful and allow the trucks to grow. This is pioneering but, also, this is more money than we've ever spent before on trucks, so we have to make it future-proof."
The new trucks will be able to simulcast UHD and HD and both HDR images and standard dynamic range (SDR) images, he added.
Telegenic was the first major UK OB firm to bring to market a UHD truck, back in 2013, when it built T25 in conjunction with Sony. CTV introduced OB11 in 2014 and Timeline Television unveiled UHD1 last year for BT Sports' Ultra HD channel.
CTV is currently hoping to retrofit OB11 with an IP core. Technical director Hamish Greig told Broadcast: "Due to current production demands we are, out of necessity, relying upon a Quad HD solution to service UHD productions in OB11. But we are actively looking, with various manufacturers, at how to give OB11 a full IP-capable production infrastructure that can integrate video, audio and metadata, to future-proof it to handle the next generation of UHD, HFR and HDR video formats."
He said this will happen "as soon as our technology partners can adequately provide a set of integrated tools that satisfy all of our, and the marketplace's, next- generation requirements".
Another of the big OB players, NEP Visions, is currently kitting out trucks to replace those lost following a fire at its Bracknell headquarters in November 2015.
BT Sport is currently the only UK broadcaster with a UHD channel. Sky plans to introduce a UHD service via its SkyQ set-top box later this year.