British manufacturers Quantel, Autoscript and Cintel were this week making the most of an enforced stay in the US because of the volcanic ash cloud flight restrictions by setting up temporary offices and visiting customers in the States and beyond.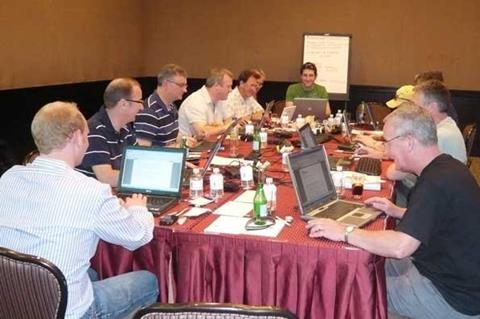 Autoscript, the makers of autocue and prompter systems, has set up camp in New York and is using the time to visit the broadcasters there.
Brian Larter, the managing director of Autoscript, said. "Today we were at NBC, who have experienced work flow issues. So we are sitting in on the "Way to Early" breakfast show and then the "Early Joe Show". On Wednesday we will be at the Shelton office. I am planning on a sales meeting on the Friday. I've never been able to do this so soon after a trade show."
Autoscript personnel are currently booked on flights on 26 and 28 April but are hopeful of an earlier return.
Quantel, meanwhile, has set up a temporary 'office' in Las Vegas in a meeting room (pictured) in the Signature Tower at the MGM Grand hotel.
The company describes it as a mix of sales, marketing and support people from the UK who were all at the show and are now stranded.
The rest of Quantel's UK contingent is visiting customers and prospects in LA, Nashville, Australia, India, Canada and Malaysia.
Head of publicity Roger Thornton said: "Basically we're just trying to make the best of the situation and make sure that all our normal operations continue uninterrupted."
Film scanner manufacturer Cintel International has three key personnel stranded in Las Vegas: sales director Simon Carter, business development manager Simon Clark and principal software engineer David Snape.
All three were all due to return on Friday 16 April but are now hopeful of getting home on 22 April.
Clark said: "The loss of three team members has affected some short term post NAB demo plans but, with the wide range of communication tools available today, it is very much 'business as usual'."
He said that he was using the time to work through leads generated at the show.
"I'm just as able to do it sitting by the pool as I am in the office," he joked. "The only downside of course is we are all missing our families and friends terribly and can't wait to get home."
NAB ran from 10-15 April at the Las Vegas Convention Centre.