A BBC virtual reality film is to give viewers an insight into the perils of being trapped in a house fire on Christmas Day.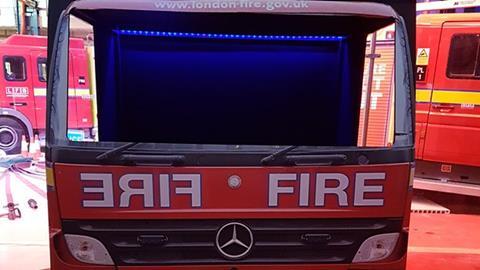 The film immerses viewers in the real-life story of a crew of firefighters who rescued six children from a house fire on Christmas Day in 2012.
It stars fire crew manager Paul Rich and his colleagues from Southall Fire Station and transports viewers to a flame-filled bedroom, where they witness the sights and sounds of the fire and the terrified screams of the children trapped inside.
Fire Rescue will be unveiled at the London Fire Brigade's pop-up museum in Lambeth today to raise awareness of the dangers that firefighters face.
London Fire Commissioner Ron Dobson said the film was "an excellent way to highlight the dangers and difficulties our firefighters face at the scene of a fire".
It was directed by Peter Boyd Maclean and produced by BBC Research and Development and BBC News Labs.
BBC R&D executive producer Zillah Watson said VR had uses beyond entertainment.
"The technology could also have significant practical applications as a safe but realistic training environment for firefighters," she said.
"This new type of immersive filmmaking presents an interesting challenge regarding storytelling in 360 degrees, and the result in this case is a powerful viewing experience."
Oculus launch
Separately, the BBC has launched its first VR experience on the Oculus store.
We Wait, the collaboration with Aardman Digital, follows the plight of migrants making the perilous journey from Turkey to Greece on a smuggler's boat.
The experience, which launched on the BBC's online testing site Taster will be made available for free via Oculus.
Watson said the rollout would open up the film to a wider audience and capped a "big year" for the format at the broadcaster.
"Our VR experiments have enabled us to look at the role the BBC should play at this early stage, raising important questions over how storytelling, pacing, direction, subtitling, sound and picture quality are all affected," she said.