BBC Northern Ireland hopes its first comedy pilot event can pave the way for the next Mrs Brown's Boys, according to the event's organisers.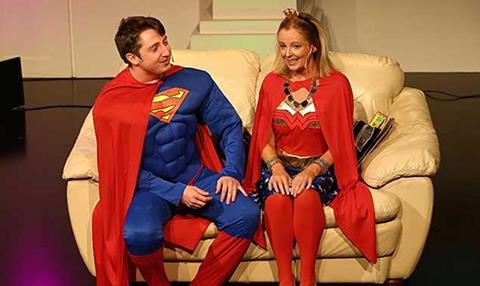 This week's Belfast Comedy Showcase was staged by BBC Northern Ireland, the BBC's comedy division and Irish broadcaster RTÉ, each of which funded one of three pilots with the aim of commissioning a full series – either collaboratively or individually.
It is hoped that the event, which is similar to the Salford Sitcom Showcase and included projects from Baby Cow, Tiger Aspect and The Comedy Unit, can deliver the next big comedy hit for audiences in Ireland and elsewhere.
"We learnt a lot from Mrs Brown's Boys, which massively overperformed in Northern Ireland," said BBC NI commissioning executive producer Justin Binding.
Brendan O'Carroll's BBC1 sitcom is co-produced by BBC Scotland and RTÉ and was cited by RTÉ's head of comedy Eddie Doyle as an example of how the Irish broadcaster and the BBC "can come together to generate great television comedy".
BBC comedy commissioner Chris Sussman added: "There's a hope that the Belfast Showcase and its three dynamic pilots will raise the profile of BBC comedy in Northern Ireland and inspire people to write more scripts."
The Showcase's long-term goals, Sussman said, are to "promote the growth and development of Northern Irish directors and indies".
Providing a platform for new talent is also a core ambition, with the event running alongside a BBC Writersroom initiative to unearth Northern Irish writers. "For the first run, we've chosen three established writers in order to build momentum for the event, but the aim is to introduce new talent next year," Sussman said.
BBC NI funded Can't Forget About You as part of the scheme. Produced by Zodiak Media-owned The Comedy Unit, it tells the story of 25-year-old Belfast local Stevie who meets a 49-year-old Glaswegian widow after going through a break-up. The age-gap sitcom was written by playwright David Ireland and started life as a theatre production last year.
Tiger Aspect's Big Country was written by ex-Fame Academy host Patrick Kielty and funded by BBC comedy. It focuses on the Quinn family's attempts to juggle ownership of their cross-border farm and local radio station, while earning a dishonest living as smugglers.
Finally, RTÉ-funded Settled follows Irish traveller Bernie Ward, who moves to England and buys a pub. Written by Irish comedian Katherine Lynch and producer Warren Meyler, it will be made by the latter's indie, Waka TV, in association with Baby Cow.
BBC NI's previous comedy successes include Green Inc Film & Television-produced panel show Monumental, which launched in 2013, and The Blame Game, which first aired in 2005 and has run for seven series. They broadcast in Northern Ireland on BBC1.
The Salford Sitcom Showcase spawned BBC1's Citizen Khan, while a similar initiative in Glasgow led to BBC1's Miller's Mountain, which aired in May.