Our look at local history uncovered a shocking tale of communities forced out and beautiful houses replaced with tower blocks, says Joseph Bullman.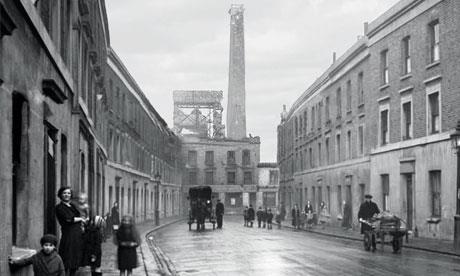 Credits
The Secret History Of Our Streets
Production company Century Films, Halcyon Heart
TX BBC2, Wednesday 6 June, 9pm
Director Joseph Bullman (episode one)
Executive producer Simon Ford
Series producer Katie Bailiffe
Assistant producer Jaime Taylor
DoP/camera Mark Wolf
Editor Michael Harrowes
Sound Malcolm Hirst
Sound mixer Bob Jackson
Colourist Blair Wallace
Post Envy
Summary Documentary series looking at how six London streets have changed over 125 years: Deptford High Street, Camberwell Grove, Caledonia Rd, Portland Rd, Reverdy Rd and Arnold Circus.
Joseph Bullman
Director
We wanted these films to be a Who Do You Think You Are? for a street – but without the celebrities. We were determined that the people of each street would tell their own story, collectively, for themselves. A people's history of a single street, which – we hoped – would tap into the great social forces that had shaped a nation.
But handing the storytelling to the residents was a challenge, because most knew just fragments of their street's story. There were no 'experts' in Deptford High Street, or any of the others. We rapidly became the experts, groping clumsily into uncharted historical territory, without any real clue of what we were going to find.
This original research was at the heart of the series. We spent more than a year on it. When funding for research began to run out, a book deal and money from the Open University kept us going.
It was an unusual way of doing history: restricted to a particular street, without the luxury of pursuing big narratives, wherever they took us geographically. It felt limiting at first; the best story always seemed to be on the next street over. But as we drilled down deep into the history of these individual streets, we began to produce the most unexpected results.
Deptford High Street today is one of the poorest shopping streets in the country; a rough-and-ready collection of Georgian and Victorian buildings marooned amid a sea of 1970s blocks. When Charles Booth had arrived in the 1890s, it was the Oxford Street of South London – so prosperous that many of its working class shopkeepers kept domestic servants.
No one had any idea why the high street had fallen so far. When we met John Price, a shopkeeper whose family had been trading on the high street for 250 years, he told us that the side-street he'd been born on, just a few paces from his shop, had been "torn down 'cos it was too violent".
Nearly all the attractive Victorian terraces that had once fed into the high street had been pulled down. Prompted by John's strange comment, we decided to find out why. The council's account was that the houses had been "unfit for human habitation". But John, and the other Deptford people we met, were adamant that the houses the council demolished were beautiful.
The council had chucked its records into a skip years earlier and there was no official account of the mass demolition. So we kept on digging.
One of our APs, Jaime Taylor, spent weeks in the London Metropolitan Archives, going through thousands of uncatalogued papers. It turned out that in the 1960s, tower block-fixated councils had to declare their Victorian streets as slums before demolishing them. But Jaime started to find documents written by health inspectors, the men responsible for designating Deptford's streets as slums. To our astonishment, these hand-written notes seemed to confirm what John had told us: that the street was full of solid, well-maintained homes – no need for demolition. Next, we found the desperate letters from John's dad, aunt and neighbours, begging the council to let them keep their homes. But the streets were torn down anyway, and a way of life had disappeared.
The pieces of this story had started to fit together. The people of Deptford had been forced out when the side streets they'd lived in for generations were torn down. The Victorian terraces were replaced by blocks that, within a few years, no one wanted to live in – only the poorest and most marginal. The high street, once the heart of a thriving, working class community, had lost its customer base and fell into disastrous decline.
We'd stumbled across a story about slum clearance and the mania to rebuild our cities as futuristic utopias. Across the country, tens of millions had had their family histories shaped by this movement – but it had gone undiscussed on television. John Price's unexpected comment had thrown up a story that needed to be told.
In each of the six films, talented directors have developed this highly personal, localised approach to history, and uncovered stories of huge national significance. Six microcosmic stories. New ways to understand our past.
My tricks of the trade
Letting ordinary people shape your films leads you away from the standard versions of history and into more surprising territories. But it takes time.
Save your dosh on that elaborate CGI scene or reconstruction and invest in another month's research.
Knock on doors. We met some amazing people hanging about on the street and through dropping letters through letterboxes
BOOTH MAPs
Simon Ford
Executive producer
The Booth maps are one of those dimly recalled bits of London history that if you start talking about them, some people will recall enough to say: "Oh yes, the Booth maps, they're really fascinating, aren't they?"
And they are truly fascinating: beautiful as objects and powerful in their effect. They genuinely changed the way late-Victorian society felt about its capital city and the shocking imbalances between rich and poor that they documented.
Booth and his team took 17 years to visit all the streets of London and colour-code the social position of their inhabitants. Yellow for the "servant- keeping classes" and black for the "vicious and semi criminal".
We knew we couldn't visit every street again, and we didn't want to do a conventional historical biography on Charles Booth. Instead, we reduced our canvas and took just six very different streets. We decided to use Booth as the starting point and track the social progress of each of them over the next century or so. We had a hunch that what we found might reveal a more objective truth about each road, about London and, crucially, about us as a nation.
We asked ourselves a lot of questions: was it in the DNA of some localities that they wouldn't or couldn't benefi t from gentrification? What was life like for each successive wave of residents? Was there anyone interesting living there and did they have any moving archive?
With light-touch contemporary documentary moments and the power of oral history storytelling, we may have created a fresh way of bringing social history alive for television.
This series starts with Booth and his maps of London; we all hope it ends with the viewer saying: "Fascinating. I've never thought of the street I live in that way."