Avalon Television and Hat Trick Productions are preparing to unveil a range of "high-profile" backers for their audacious £100m bid to rescue BBC3.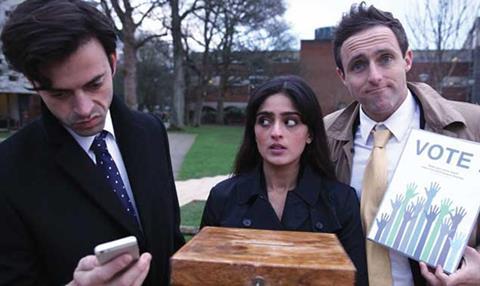 Jon Thoday and Jimmy Mulville will shortly announce investment partners and supporters for their project after submitting an "alternative" vision for BBC3 to the BBC Trust this week. They also called on other indies to get behind their mission.
"It's important we get as much support as possible from the production community," Thoday said, adding that the two companies do not have "an army of lobbyists".
The BBC has repeatedly stated that BBC3 is not for sale, and Thoday and Mulville believe they will also face opposition from ITV and Channel 4, which would likely benefit from the closure of the TV channel.
The indie bosses have a potential programming director lined up to run BBC3 if the £100m takeover is successful, but they declined to provide details of their partners and "mixed economy" of financial backers.
They have made clear, however, that the channel will be run independently, because they do not want to lose their indie status.
BBC3: BID IN FOCUS
Tapping into BBC3's young, upmarket and male-skewing audience, Avalon and Hat Trick's research states that the station could generate revenues of up to £170m a year in a commercial environment.
It predicts that the channel's annual content spend could range from £100m to £120m. Overheads would be in the region of £15-20m, giving the channel a surplus of £30-35m.
The proposals are reliant on the co-operation of BBC management and the pair hope that the Trust will compel the executive to consider their alternative vision. "As soon as we get that from the Trust, we can put this together incredibly quickly. BBC3 could be reinvented and rebranded by the end of the year, instead of being dead and buried," Mulville said.
"The destruction of value [in moving BBC3 online] is absolutely extraordinary. Licence fee payers are the 'shareholders' of BBC3, and the Trust represents those interests."
The Hat Trick founder and Avalon joint managing director Thoday met Danny Cohen twice last year to discuss the plans, but they claimed the BBC director of television was reluctant to engage.
"If you're going to be contemptuous prior to investigation, you're going to remain in ignorance. The management are not engaging and they don't even know what we're offering," Mulville argued.
They have sent their proposal to Cohen and said they would "welcome the opportunity to discuss". Cohen is yet to respond, but will almost certainly sit down for a third time with the pair.
The indies have offered £100m for the "right to broadcast original and acquired programming" currently aired by BBC3, either under its existing brand or an alternative name.
They believe this offers "fair value" for the channel and is "to the ultimate benefi t of the licence fee payer".
The 13-page proposal document states: "There are a number of areas that need to be addressed to enable the sale. The biggest appears to be that of split rights; however, this can be overcome as all the rights-holders, including the BBC, will benefit financially.
"Assuming BBC management engage in a collaborative process, issues of cross promotion, spectrum, brand and content deals can be easily resolved. The wider industry, and specifically other suppliers, wish the channel to continue."
Asked about concerns that selling BBC3 would represent creeping commercialisation at the corporation, Mulville pointed to the radical strategy for in-house production.
"Once you have a commercial engine at the heart of a public service broadcaster, then you're entering into a more sophisticated, more diverse mixed economy," he said. "The idea you can do that and then refuse to entertain selling off a channel that you're about to shut down is schizophrenic."
A BBC spokesman said: "BBC3 is not closing and it is not for sale, but with the licence fee frozen, we've had to make some difficult choices in order to save £800m a year, including our proposal to move the channel online. "There is no easy solution but we have chosen to make a bold move to reinvent the service rather than having to take money out of programmes across the board."