Simplestream have created an accessible, comprehensive app offering a range of brilliantly executed features for horse-racing fans - earning itself four and a half stars in Apple's App Store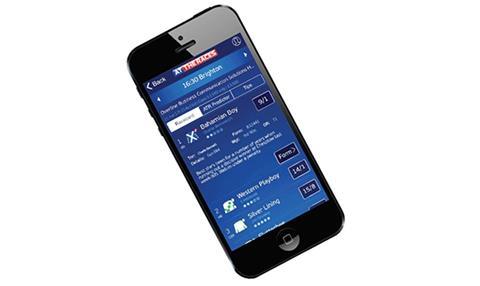 Simplestream for At the Races
Launched in July 2015, the At The Races (ATR) app takes the most popular elements of the ATR website and condenses them into an accessible, comprehensive mobile app for horse-racing fans.
In partnership with Press Association, the app offers editorial coverage and breaking news, plus renowned tipsters providing incisive daily analysis.
This is combined with features designed to deliver the best data to app users, such as the ATR tracker service, which includes horse career histories linked to archive race clips from the ATR library of more than 20,000 UK and Irish races.
Other features include access to the ATR Predictor for all races and all At The Races TV programmes on demand – including four Racing News bulletins every morning. Users can also bet directly through any of ATR's four betting partners using a secure API service without ever leaving the app, a first in the industry.
Complimented by the judges for its "brilliant execution", the app earned four and a half stars in Apple's App Store and currently averages 284 downloads a day.
A wider branding campaign sparked a surge of downloads in March this year. More than 80,000 journeys were made on branded buses between Cheltenham train station and the racecourse during the four days of the Cheltenham festival and daily downloads increased to 850 a day, peaking at 1,250 on the first day of the festival.
SHORTLISTED
AM I NORMAL?
Maverick and Little Dot Studios with Rocket for Channel 4
Through Am I Normal?, Channel 4 challenged the concept of 'normality' by providing educational content that resonated with young audiences and aimed to set their concerns at ease. Am I Normal? comprised a range of TV programmes on C4 and E4, an online hub, social media presence and a full All 4 shorts series.
RADIO 1 NEWSBEAT
BBC Newsbeat for Radio 1
Since ramping up its original journalism and going digital-first last year, Newsbeat's reporting put its audience front and centre, allowing them to tell their stories about difficult topics. With a million page views a day, Newsbeat's traffic has grown 40% since its redesign and relaunch, and now attracts between 8 million and 15 million unique browsers a month. S
YRIAN JOURNEY
BBC Arabic for BBC News
This bold foray into interactive digital storytelling put users in the shoes of refugees by enabling them to fashion their own personal journey from war-torn Syria to safer lands. Functioning like an app and produced in seven languages, Syrian Journey had a powerful impact, achieving 3.1 million website hits across the project.