A "fantastically innovative comedy" which generated a massive Twitter buzz and unanimously impressed the judges with its originality.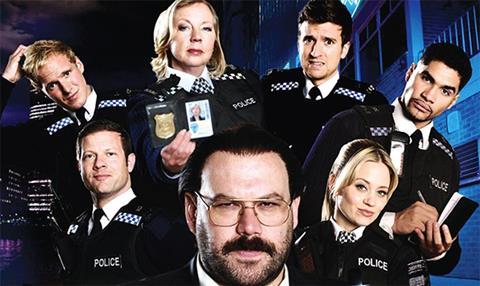 Tiger Aspect Productions for BBC Three
A genre-bending mix of comedy, reality and (at a push) whodunit detective drama, Murder In Successville could not have been an easy pitch.
At its heart was a sterling performance from Tom Davis as DI Sleet, who perfectly married a witty script with glorious improvisation.
In each episode, he was joined by a celebrity who would be set the challenge of solving a murder in the warped world of Successville, which is populated with caricatures of other famous faces.
Despite its sombre subject matter and faux-noir tone, this show was a riot and each week's celebrity sidekick would invariably break down laughing.
That sense of fun was contagious and passed on seamlessly to the viewers – and our judges, who were unanimously impressed by its originality. One branded it the "absolute standout programme – brave, witty and funny".
There was massive Twitter buzz post-TX, fuelled by the celebs who took part, such as Jamie Laing and Greg James, and those who were lampooned – not least tennis player Andy Murray and One Direction's Niall Horgan.
A "fantastically innovative comedy", said one judge, who was "excited to see more of it". They will be pleased: series two has just been launched by BBC Three – and the show played a part in Tiger Aspect winning Best Independent Production Company at the Broadcast Awards earlier this year.
SHORTLISTED
HIGHLY COMMENDED
RELEASE THE HOUNDS
Gogglebox Entertainment for ITV2
The judges marvelled at how the second series of this horror gameshow improved upon the first, feeling slicker, funnier, scarier and with a good deal more polish. The series, which recently picked up an RTS Award for Best Entertainment Programme, has become a major original brand for ITV2.
CELEBRITY JUICE
Talkback for ITV2
An evergreen format that keeps on giving for ITV2, Celebrity Juice impressed the judges with its ability to stay fresh. A live special was a particular highlight and involved viewers in innovative ways through social media. Celebrity Juice's halo effect is remarkable and it is a hugely important launch pad for new shows.
DRUNK HISTORY UK
Tiger Aspect Productions for Comedy Central UK
How to get the likes of Jack Whitehall, Olivia Colman and Catherine Tate onto Comedy Central UK? Persuade them over a drink, of course. Drunk History is such an innovative concept that talent were falling over themselves to take part, with the result that this UK version had a genuinely high-end feel.
TATTOO FIXERS
Studio Lambert for E4
A pure, unadulterated hit, Tattoo Fixers has accelerated from launch to become arguably E4's most important non-scripted brand. Series two was handed a 9pm slot after the success of the first run, and the judges were impressed by its relentless pace, expert casting and upbeat tone.
THE MOANING OF LIFE 2
Me & You Productions for Sky 1
Sky 1's top-performing non-scripted brand is a standard-bearer for 'funny factual'. The combination of comic presenter and serious subject matter was mirrored by the mix of high production values and run-and-gun documentary style in this Karl Pilkington-fronted show.