Prized Apart and Release The Hounds host Reggie Yates moved into very different territory with this look at the dark side of Russia.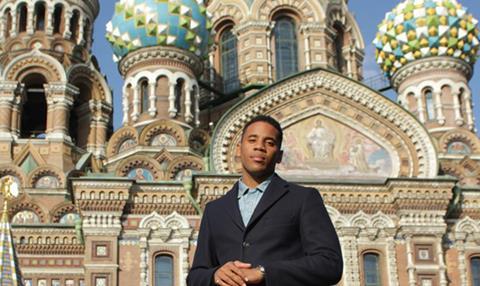 Prized Apart and Release The Hounds host Reggie Yates moved into very different territory with this look at the dark side of Russia. He visited three different communities to see how young people in the country are coping 24 years after the fall of the Soviet Union.
Yates focused on the far right of Russian youth politics, meeting a notorious neo-Nazi leader, and was racially abused on a march attended by 30,000 neofascist protestors. In subsequent episodes, he explored homophobia within certain groups and the issue of underage Russian supermodels.
The three-part doc, produced by Sam Branson's indie Sundog, performed well for BBC Three, scoring an above-slot-average live series average of 468,000 (2%). The series was repeated on BBC One and, including iPlayer streaming, each episode averaged a consolidated audience of more than 2 million, according to the broadcaster.
One judge said the series was "engaging and informative", adding: "It was an extremely brave journey from Reggie Yates." Another said the documentary was "memorable and insightful" and "made current affairs accessible".
Extreme Russia, which was commissioned by former BBC Three channel editor Sam Bickley, was followed up by a three-part series set in the UK, in which Yates investigated the impact of male body culture on young men.
SHORTLISTED
HIGHLY COMMENDED
Channel X North and Lola Entertainment for BBC Four
Mackenzie Crook's offbeat series was one of BBC Four's highest-rated new comedies in years, scoring an overnight average of 489,000 (2.9%) across its first series, thanks to its dark, gentle humour. A swift recommission and critical acclaim followed.
THE ENFIELD HAUNTING
Eleven Film for Sky Living
The three-part drama was Living's highest-rated original show since Sky took it over in 2010. The poltergeist thriller, starring Matthew Macfadyen, Timothy Spall and Juliet Stevenson, was subsequently sold to US network A&E in a landmark deal.
PLEBS
Rise Films for ITV2
The Roman sitcom, starring in it. Rise Films for ITV2 The Roman sitcom, starring Joel Fry, Tom Rosenthal and Ryan Sampson as three young men living in 26BC, helped ITV2 boost male audiences as part of a renewed comedy push. The second series was the second highest-rated UK multichannel sitcom in 2014 and series three is on its way.
SKY'S GENERAL ELECTION NIGHT COVERAGE
Sky Production for Sky Arts 1
The pay-TV broadcaster shined a light on its coverage of last year's general election with a companion series on sister channel Sky Arts. Some 25 fi xed-rig cameras in eight locations captured the drama of the newsroom.
THE UNBREAKABLES: LIFE AND LOVE ON DISABILITY CAMPUS
Minnow Films for BBC Three
The documentary, which followed disabled students at the National Star College, was the centrepiece of BBC Three's disability season. The hour-long fi lm, shot on C300 cameras, averaged more than 400,000 viewers and was repeated on BBC One.