Film-maker Medyan Dairieh spent three weeks embedded with Sunni jihadist group Islamic State for this extraordinary film, shooting all the footage and conducting all the interviews himself.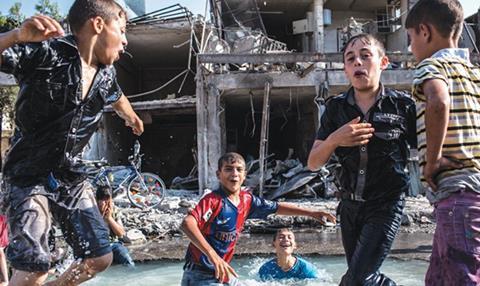 The results were hugely impressive, with one judge hailing the "extraordinary access and very subtle editing that allowed viewers to gain an almost unimaginable insight into the story of the year".
Dairieh was monitored at all times by armed fighters but managed to gain access to street patrols, prisoners, sharia courts and frontline fighters, who took him to the border with Iraq.
Through immersive storytelling, the film reveals the scale of the state that IS has set about creating and contains some chilling sequences: the methodical indoctrination of children; the influx of European fighters; and the harsh mandates and climate of fear IS has imposed on its newly acquired population.
The Islamic State has amassed nearly 20 million video views to date and is one of the flagship pieces of content that has established the Vice News channel as an innovative alternative to traditional current affairs providers.
The doc was, one judge said: "A brilliant example of digital broadcasting at its best – taking a difficult subject to a huge audience."
Shortlisted
50 Ways To Kill Your Mammy
Burning Bright Productions and Brown Bread Films for Sky 1
A travelogue with a twist, 50 Ways To Kill Your Mammy introduced Irish star Baz Ashmawy to British viewers – and his elderly mother Nancy. The show delivered a pleasing mix of stunts, tender moments and plenty of laughs.
Drunk History
Tiger Aspect for Comedy Central UK
Comedy Central lured a peak audience of 180,000 viewers to the channel, thanks to a mix of top-end comic talent and a truck-load of booze. The use of quirky animations to end each episode put a British spin on this US format, which is one of the few shows to use a breathalyser in its production.
Our War: Goodbye Afghanistan
BBC Documentaries for BBC Three
One of BBC3's most admired factual brands, this latest iteration of Our War combined disparate stories from throughout the campaign, linked to documentary interstitials. It focused on the personal legacy of the war by introducing the contributors in present-day sequences.
Storage Hunters UK
North One Television for Dave
The breakneck pace of the US Storage Hunters made it a massive hit for Dave – would the UK version live up to it? The answer was a resounding 'yes', with host Sean Kelly transferring from the States and brilliant casting ensuring the British version matched up.
Highly Commended
Katie Hopkins: My Fat Story
Crackit Productions for TLC
The combination of an immersive format and one of the UK' s most provocative celebrities made this TLC origination the channel's biggest ever show in the UK. Hopkins' starting point was that "fat people are lazy" – and she set out to prove her point by gaining half her body weight and losing it again. Behind the bluster was a moving, insightful doc that impressed the judges with its observations on gender and body image.
Award sponsored by Hotcam