Sky Sports' commitment to innovation and high production values helped its entry stand out from the competition.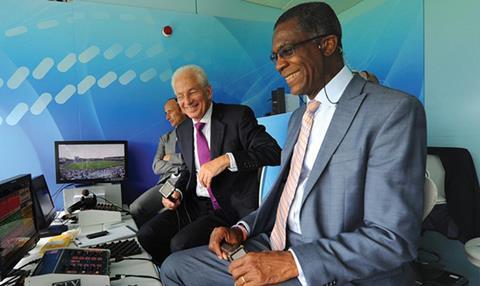 The 2015 Investec Ashes Series
Sky Sports for Sky Sports Ashes
Sky Sports' commitment to innovation and high production values helped its entry stand out from the competition. The service showed every ball of the men's and women's Ashes series live last summer as part of its long-running relationship with the English Cricket Board.
Via a dedicated Sky Sports Ashes channel, viewers were given an hour's build-up ahead of the daily live coverage of the England v Australia tests, featuring analysis, interviews and masterclasses.
Sky's usual team, including former England cricketers Ian Botham, David Gower, Michael Atherton and Nasser Hussain, were joined by Australia's Ricky Ponting, the most successful Test captain in history, for the first time.
Their commentary and analysis was aided by more than 40 on-site cameras, 60 microphones dotted around the ground and more than 15 miles of cabling. The director had 78 screens in the truck from which to choose the best picture, angle or replay for the viewers.
But it was Sky's digital coverage that really impressed the judges. As well as a live match blog, it carried regular columns from Joe Root, Mitchell Johnson and Steve Smith, while social media users clocked up 3.6 million views of near-live videos.
"Multiplatform, innovative coverage, which blended high TV production values with cutting-edge use of social and digital media," said one judge.
Shortlisted
The Derby
IMG Productions for Channel 4
IMG's coverage of the landmark horseracing event made use of a hi-motion Superloupe camera to capture the day, including jockey Frankie Dettori's famous flying dismount. Some 37 cameras were deployed for the coverage, including two aerial cameras, a helicopter and a tethered blimp in the middle of the downs.
European Rugby Champions Cup Final
Sunset+Vine for BT Sport
Like Sky's Ashes coverage, the judges were impressed with BT's commitment to innovation. Sunset+Vine attempted to provide a point of difference to Sky by bringing home to the viewers the sheer scale of the event and the excitement of being a fan involved in it. Presenter Craig Doyle won particular praise.
Isle of Man TT
North One TV for ITV4
North One Television had a team of 80 on the island for the two-week festival and created every frame of programming on site, with an array of on-course and specialist cameras. ITV4 enjoyed its greatest TT week ever, with numbers up across the board. The Superbike race show peaked at more than 1 million viewers.
NFL Superbowl
North One TV for Channel 4
Channel 4's live coverage of the 49th Super Bowl was split between the stadium in Arizona and a studio in the Olympic Park. Nat Coombs anchored proceedings in London, accompanied by resident NFL expert Mike Carlson and two-time Super Bowl winner Osi Umenyiora.
The 2014 Ryder Cup
Sky Sports and ETP for Sky Sports
Sky Sports built its biggest ever outside broadcast studio to bring viewers 60 hours of live coverage of one of golf's biggest events at Gleneagles. Three Sky OB Trucks and two edit trailers created a wealth of content over five days of build-up and three days of match coverage.