Sponsored content
Find out more
With just days to go before one of the most controversial of US elections, TV presidential debates have played a starring role in the lead up to election day on November 3.
President Donald Trump and Democratic Party nominee Joe Biden squared up in a bad tempered and fiery first debate, while their second meeting was sensationally cancelled following Trump's coronavirus diagnosis. Their third and final debate last week saw the two men clash over Covid, climate and corruption charges.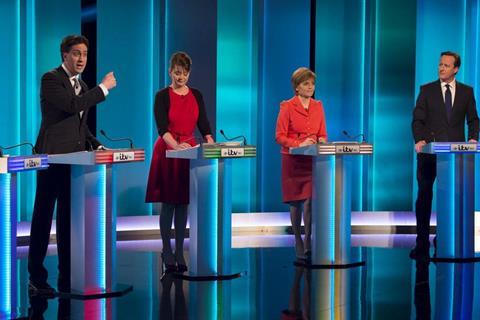 The onscreen presidential showdowns are a reminder of the UK's recent experience of TV debates during the tumultuous political period that engulfed the country before and after the EU referendum.
The dock10 studios have played host to no less than five ITV Leaders' Debates since 2015: two for the general elections of 2015 and 2017, and three last year – firstly the Conservative Party leaders debate, then a general election head-to-head between Boris Johnson and Jeremy Corbyn, followed by a seven-way debate between all the main party leaders.
"We've loved doing them," says Andy Waters, head of studios at dock10, which is also home to long-running series such as A Question of Sport, The Voice, Match of the Day, and University Challenge. "They've become a bit like some of our best ongoing series, and have kept on coming back to the studios."
dock10 was chosen to host the debates for its spacious facilities and high tech connectivity, but also because politicians were keen to be seen to be electioneering outside the usual 'media bubble' of London. As the UK's largest TV studios and being based outside the capital, dock10 was a natural choice for all the parties to agree on.
Waters says that the 2015 ITV Leaders' Debate was the most challenging to host, largely because it was the first to be held at the studios. "The hardest programmes are often those that we do for the first time in a series. That is when everyone is learning about the set-up, format and workflow."
One of the key issues for a busy studio like dock10 is how to accommodate such a major event at short notice as the debates are only confirmed a few weeks in advance by the parties and broadcasters.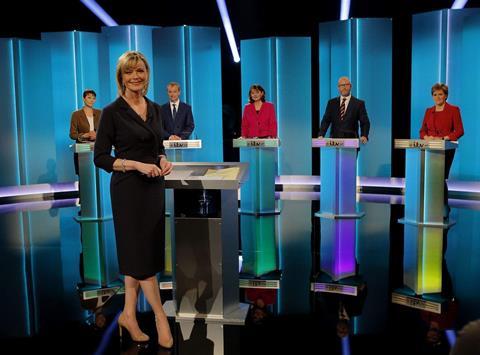 This requires lots of communication and collaboration between the producer of the debates, ITV-owned Multistory Media, and dock10. Multistory production executive Helen Houston, who has worked on all the debates, will regularly liaise with Waters about possible dates in the weeks and months leading up to the debates. "Each date might throw up different challenges, such as striking sets and resetting in the middle of the night," says Waters.
The key aim is to find free slot in dock10's largest studio HQ1, which is home to series like Who Wants to be a Millionaire? and The Voice. All of the ITV Leaders' Debates have taken place in HQ1, with the exception of 2019 seven-way party leader debate - which eventually took place in HQ4, the facility's third biggest space.
"We had to come up with some compromises around seating systems, but we made it work," says Waters. "Having a facility with multiple studios like ours increases your likelihood of finding a solution."
For the studio's technical team, the hardest part of delivering the debates is not so much filming the debates themselves - which by themselves are just talking heads in a studio with an audience, albeit with very high profile guests – but the work it does around the debates.
The major challenge is that the world's media descend on MediaCityUK for the debates, says dock10 technical manager Darren Jones. Typically, the main studio itself is busy from 7am with inserts filmed for ITV, BBC and Sky breakfast news. 12 regional news broadcasters are then given three minute slots on the studio floor.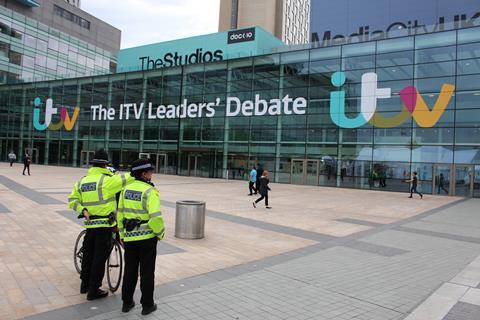 Later in the day, the studio is handed over to the leaders for rehearsals. To ensure a level playing field between the politicians, all need identical dressing rooms, equipped with identical ICT services so they can monitor news feeds during the day.
Meanwhile, a media centre was built in the nearby building to accommodate some 300 journalists, all provided with the necessary data, comms and video connectivity.
ITV News also had a base in the HQ3 production gallery to co-ordinate and distribute pool feeds, such as footage of politician arrivals or images shot from a helicopter hovering above MediaCityUK. The Piazza outside the studios, meanwhile, became a base for OB trucks serving ITV, Sky and BBC.
Jones recalls that, in 2015, the helicopter footage showing the MediaCityUK site and dock10 studios from above was used on all the 24/7 news channels throughout the day. dock10 itself had only opened for business a few years previously. "For me, the constant coverage on all these channels was a pivotal coming of age day for MediaCityUK and dock10. We had arrived - we were at the centre of the biggest media event in Europe."
Four years later, Jones was again working on the three 2019 debates. The seven-way debate stood out because it took place on the busiest weekend the studio had ever had, amid recordings for children's shows through to BBC Sports coverage. Jones recalls there were 52 cameras connected to the broadcast system, and that dock10's six studios produced 11 hours of live transmissions, as well as two major pre-recorded shows, The Voice and Who Wants to be a Millionaire?
Despite detailed planning, sometimes not everything goes as expected. In particular, stringent security for the debates can throw up sudden challenges. In 2015, then Prime Minister David Cameron had to wait in the corridor before the ITV Leaders' Debate started as his security team wasn't happy about letting him into a dressing room which could only be accessed with a card rather than a key. Another time, a security sweep sparked momentary alarm when it turned up an unusual prop – a plastic toy hand grenade.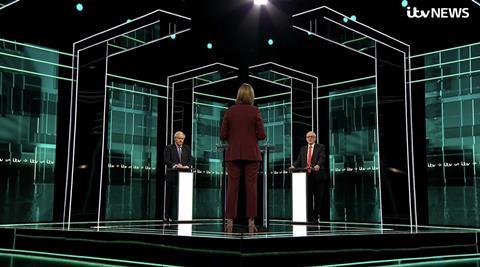 All three of 2019's ITV Leaders' Debates were directed by Good Morning Britain and Peston director Erron Gordon, who had never worked at the dock10 before – but who was impressed with the facilities and staff. "It really is a great outfit – it's an incredible studio facility," he says.
Gordon says he sought to bring some light entertainment flair to the debates to make them appeal to a broad audience, bringing in Strictly Come Dancing set designer Patrick Doherty to help design the set. "We wanted to add a bit of pizazz to a political show, with a big shiny floor and LED walls with moving graphics," says Gordon. The ambition was to create debate programmes with "good energy, that looked slick, and had a glossy, primetime feel."
Key to achieving this, Gordon explains, is working with a trusted and experienced team. "You've got to surround yourself with the right people," he says, from camera operators through to the vision mixer.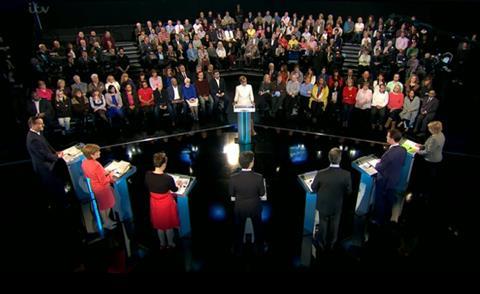 Even so, the pressure of directing the debates is enormous, he admits. "I've done hundreds of hours of live TV, but these debates were hugely stressful and nerve wracking.
"That's because when you arrive at the studios on the day of TX, the whole place is on lockdown and there is a massive security detail. The entire control room is also filled with execs, from [ITV director of television] Kevin Lygo, to ITV's head of news and all the execs from the production company.
Add to that, earlier in the day, you're shaking hands with the Prime Minister and talking to his team about lighting and all sorts of details. There is a huge amount of pressure to get it right."
Asked whether he would do it again, however, and Gordon is unequivocal in his reply. "Without a shadow of doubt – I would love to. And I'd very much like to do it at dock10."
That's undoubtedly the case for dock10 as well. Although, given the more settled political climate that seems to have taken hold in the UK since December's election, it may be a few years before the next ITV Leaders Debate comes to the studios.