Sponsored content
Find out more
Evolution of technical infrastructure during pandemic has enabled a huge leap forward in remote production
Sky Production Services (SPS) is nestled at the heart of Sky's West London campus. From the outside, the wildflower gardens, state-of-the-art gym, hair and beauty salons, coffee bars and co-working spaces hint at a well-ordered corporate world – but once you swipe through the studio barriers and step behind the scenes, it quickly becomes evident that this isn't the case.
With 12 studios ranging from 1,200-5,500 sq ft, several galleries fitted with Vizrt graphics, EVS servers and direct ingest capability, limitless virtual production suites linked to Sky's MCR and integrated into Sky's MAM, a variety of guest dressing, make-up and green rooms, SPS Studios is a firecracker of an operation powered sustainably and built on industry-leading facilities.
However, people are at the heart of SPS Studios, with a large and talented staff able to deliver key operational functions (including make-up, floor management, scenery, lighting, cameras, graphics, vision mixing, sound and technical management) and who are hungry for innovation.
Pandemic impact
Due to the pandemic, the need for innovation has only increased. Remote production, decentralised production and production in the cloud have always been part of a long-term plan, but these advancements have leapt forward to overcome new and potentially long-standing obstacles to conventional production.
"We're determined to continue to push the boundaries"
Kevin Ramsey, director of studios, Sky Production Services
Kevin Ramsey, director of studios for SPS, says: "The world has changed, and we've learned a lot in the past 18 months. The acceleration of technology, workflow and skillset changes has been both exhilarating and challenging, and it's led to various evolutions of our technical infrastructure. We're determined to continue to push the boundaries and stay on the path we're currently on."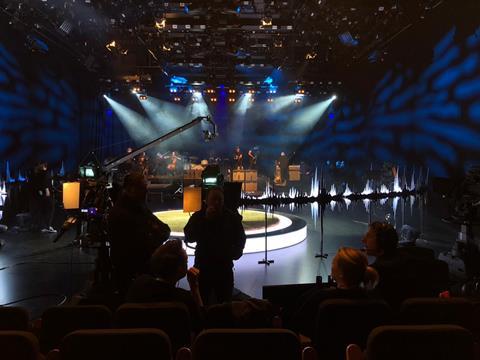 In addition to providing studio output for Sky Sports, Sky Sports News and Sky News, as well as several Sky Entertainment productions and external clients, SPS Studios has been at the forefront of key projects that have accelerated Sky's vision for the future of TV production.
Amanda Tully, senior manager, sound and technical management, for SPS, says: "The escalation of remote productions has seen the biggest innovations to how we deliver our live content, not just to the infrastructure within Studios (feed ramp-up, gallery adaptations, fully remote UHD capability) but also the new workflows have driven the change in the skills now required of our people."
Operation of remote production has lent heavily on SPS Studios' sound and technical management. As a result, both teams' work has been transformed, with sound crews doubling to deliver increased cross communications between Osterley and the OB trucks, while the technical supervisors have managed the complexities of the remote productions and the line feeds across galleries, replay rooms and studios.
These technical teams are continually evolving – starting with a cloud production environment, introducing new production platforms to support different areas of the business, such as Sky Sports and Sky VIP.
Then this expanded to deliver services for distributing on-location multi-camera and audio into the cloud, live synchronous cutting of match coverage and adding Sky's house-style graphics (as seen on England Netball Super League). The current evolution has led to the production of multiple, simultaneous cloud-powered versions of live sport, including the English Football League, via the red button service.
Cloud-based platforms will be central to SPS Studios and technical operations, and made available in a package of remote production tools rolled out across more of SPS' production slate.