Sponsored content
Find out more
Sky Production Services created a bespoke cloud-based workflow to deliver this all-new event for media industry thought leaders
In early autumn, Sky Production Services (SPS) was tasked with producing the DPP Media Supply Festival, an all-new breed of event for the thought leaders driving the media factories of the future.
Spread across two days with three core elements – The Demo Zone, Supply Chain Live and Media Supply Conference – the aim was to bring together content companies, cloud providers, integrators and start-ups to delve into software-defined content supply chains.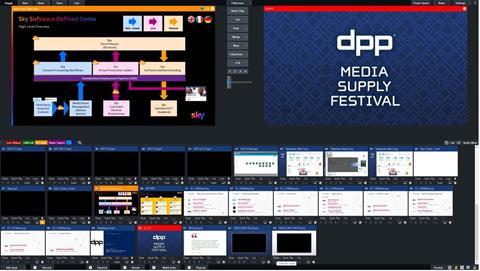 Collaborating with the Sky Product & Supply team, SPS's brief was simple: demonstrate Sky's cloud production capabilities and integrate a lit studio, with Covid guidelines in mind, to deliver the event direct to the DPP's website. The full-scale operation drafted in several teams across SPS Studios, including cameras, floor management, lighting, sound, technical management and vision mixing.
Turned around in one week, Sky Product & Supply and SPS's technical management team created a bespoke cloud-based workflow to allow footage from four cameras to be delivered from the studio to the cloud, where the director called the shots and vision mixing, graphics, contributor call handling, audio output monitoring and VT playout was managed in Sky's virtual production suite.
Meanwhile, on the ground, a remote gallery was built in the studio scene-dock, providing traditional gallery functionality with director, sound, vision mixer and producer positions.
Simultaneously, SPS's sound team monitored audio output, mixing the mics from the contributors on the studio floor and feeding it into Sky's virtual production suite to be included in the presentation, while floor management cued in guests and contributors, ensuring Covid guidelines were adhered to on the floor.
"SPS gave our event the same attention as a broadcast event"
Mark Harrison, DPP chief executive
DPP chief executive Mark Harrison says: "When you take an event into a TV studio, all the standards of a broadcast TV show suddenly apply – and that's a big step up for a team like ours that doesn't normally make TV.
"We were also using Sky's cloud-based production platform – more innovation for us to get familiar with. Thankfully, SPS gave our event the same attention as a broadcast event and their professionalism and experience came to bear and enabled us to produce an event of which we could feel proud."
Innovative mindset
Discussing the internal collaboration, Tyrone Donnelly, head of infrastructure & cloud, Sky Product & Supply, says: "Despite the pressure, timescale, crazy technology and hidden deployment secrets, working with SPS was an absolute pleasure, and the passion shown was key to driving the success of the event."
Sherida Denny, senior manager of planning & resources, Sky Production Services, adds: "Everyone involved worked collaboratively and truly embodied the Sky value of being forward-thinking. They showed their innovative mindset throughout, and each person offered solutions to ensure that the event was delivered to the highest standard."
Comprising two, four-hour sessions, DPP Media Supply Festival was successfully held in September and showcased Sky Production Services' cloud-based production tools, studio facilities and craft talent available for future productions.