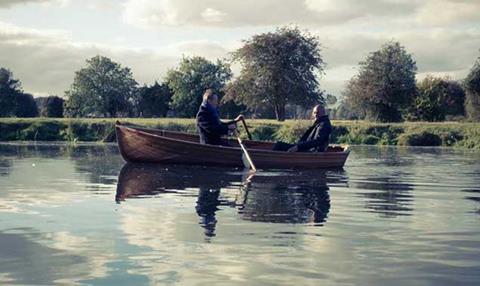 Forging partnerships with arts organisations has become increasingly critical to broadcasters looking to expand the scale of their factual programming.
Arts bosses from the BBC, Channel 4 and Sky revealed their plans at Sheffield Doc/Fest panel, Commissioner Question Time: Arts Documentaries for All Platforms.
Sky Arts director Phil Edgar-Jones said a boost in his factual budget would be pumped into creating more programming with partners.
He highlighted deals with Tate Britain and Creative England for 7 Wonder travelogue Great British Walks [pictured] and Art 50, a £1m post-Brexit project with the Barbican gallery and Sage concert hall in which 50 artists respond to the idea of what it means to be British.
"It's all about how we can make those partnerships work with original TV formats," he said.
BBC head of arts commissioning Mark Bell is also keen for stronger ties to be forged between the TV industry and arts bodies.
"We are looking for a different relationship with the artist," he said. "Institutions, theatres, galleries are becoming more digitally enabled and we are encouraging them to team up with filmmakers and to have more creative input."
He added that a renewed focus on authorship was also a priority. "We are looking for a bit more experimentation - more authorship, more original one-offs and braver programmes," he said.
Authorship is also a watchword for C4 head of specialist factual John Hay, who has installed Zawe Ashton as host of the third series of Random Acts as part of a three-year, £6m partnership with Arts Council England.
Additional authorship is steering C4's arts programming to "look outwards rather than inward" and freeing artists to "show us the world through their eyes" according to Hay.
He added that partnership deals could also help broadcasters to "pool resources" and offset budget cuts.
Braver projects
Australian broadcaster ABC executive producer of arts Linda Brusasco revealed her channel has shifted its focus onto riskier projects following a budget boost and move to put arts and science programming "front and centre" of the schedule.
She pointed to Matthew Sleeth's upcoming docu-drama Guilty, which tells the story of artist and convicted drugs smuggler Myuran Sukumaran.
"We actively look to hold money back to do a couple of things a year that scare us," Brusasco added.
While Bell is also hunting "braver projects" for BBC4, BBC1 remains the destination for mainstream arts programming, such as Fake or Fortune, which reaches an "impressive" atypical audience.
He challenged producers to find "the happy medium" to fit BBC2.
"They need to be reputational with people, subjects and names that bring in a broader audience," he said.
Similarly, C4's Hay is seeking "innovative experimental content" and has tightened his focus onto several standout shows rather than lots of "medium intensity" projects.