Seven BAME producers win commissions and two enter funded development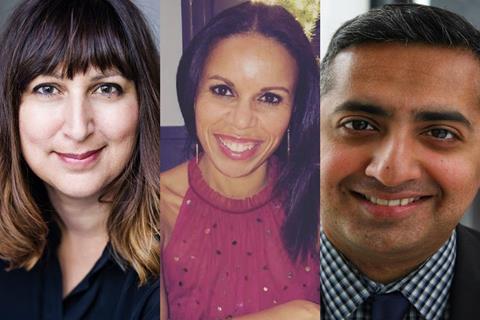 Nav Raman's Chatterbox, Emma-Rosa Dias' Afro-Mic and Sohail Shah's King of Sunshine Productions are among the first cohort of indies to be greenlit from Channel 5's BAME indie initiative.
The scheme, which was unveiled last year, paired nine BAME indies with commissioners to aid development of programmes for the Viacom-CBS-owned PSB, in collaboration with the TV Collective.
Leading the resulting slate is Sally Lindsay's Poshest Homes Sleepover (3 x 60) from Chatterbox, as the star of C5 drama Cold Call peeks inside Britain's most expensive homes.
Similarly, the likes of Laurence Llewelyn-Bowen and interior designer Linda Barker will advise viewers on how to add value to their home in Top 10 Ways to Add 20K to Your Home (1 x 60) from Ten66 Television.
The former was commissioned by Kit Morey and the latter by Greg Barnett.
Dhanny Joshi and Thomas Stogdon's Big Deal Films is forging a duo of toy-related shows - The Greatest Toys of All Time (3 x 60) and Christmas special Greatest Christmas Toys (1 x 120). Both were commissioned by factual commissioner Daniel Louw.
Meanwhile, former BBC entertainment commissioner Sohail Shah's new indie King of Sunshine Productions has won its second revealed commission - Most Expensive Celebrity Break Ups (1 x 60) – charting the financial fall-out from prominent celebrity break-ups.
This show, which follows on from ITV's Britain's Favourite Detective for Shah's Manchester-based indie, was commissioned by Adrian Padmore.
Belfast based Afro-Mic is set to celebrate the beauty of Ireland's coastline in Scenic Ireland: Coast to Coast (2 x 60), which was ordered by C5's Daniel Pearl.
Finally, Yorkshire's Meridian Line Films will take a look at Britain's national attractions in a 2 x 60-minute untitled doc and Doc Hearts is producing Living with Chronic Pain (1 X 60), which will follow individuals who endure constant pain.
The former was ordered by Guy Davies and the latter by Emma Westcott.
Of the two other indies participating in the scheme, Chapter 1 Films has struck a funded development partnership with Knickerbockerglory and Clockwork Films is developing a feature length doc with Yorkshire Vet producer Daisybeck.
"I'm thrilled to bits that each of these indies has landed a much-deserved commission," said ViacomCBS Networks UK director of programmes Ben Frow.
"In order for our industry to become more representative both on and off-screen, it is imperative that we all take meaningful steps to embrace the range of talent that is out there."
TV Collective director Simone Pennant encouraged other broadcasters to take similar action.
"It is significant that Ben Frow and his team committed to this project many months before the killing of George Floyd, and saw it to completion during a global pandemic," she said.
"This kind of result can only be delivered by broadcasters with Ben's bravery, willingness to take action and dogged commitment."
Since Floyd's killing, Channel 4 has committed to double the number of BAME-led indies it works with over the next three years, while the BBC has unveiled a £100m 'diverse and inclusive content fund'.