Boom's zombie escape room show Prosiect Z is named best entertainment programme
Welsh channel S4C scooped its first Children's Bafta in 17 years last night at an event otherwise dominated by the BBC.
Boom's Prosiect Z was awarded best entertainment programme for the ecape room-style show, which charts the efforts of five school pupils to escape a virus that has turned their peers into zombies.
It beat three long-established in-house BBC shows to the title: CBBC's The Dog Ate My Homework and Sam & Mark's Big Friday Wind-Up and CBeebies pirate game show Swashbuckle.
The gong – S4C's first since the best animation win for Aunt Tiger in 2001 - comes at a time of change for the BBC/government-backed channel, which recently moved into box-setting.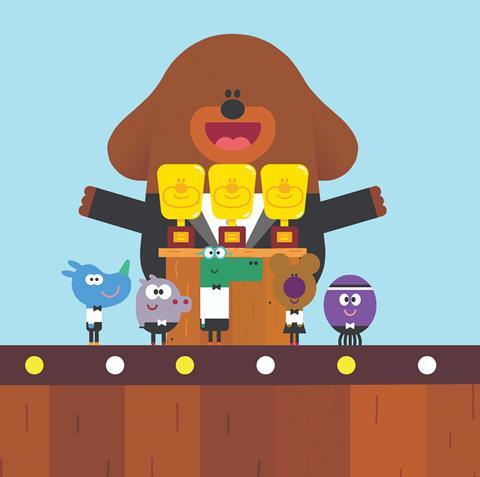 Elsewhere on the night, BBC Studios' CBeebies hit Hey Duggee won three Baftas: its third consecutive pre-school animation award, the digital award for its programme companion app and the inaugural best director for Grant Orchard.
Hey Duggee's hat-trick comprised just a portion of the 13 picked up by the BBC. CBeebies won best channel for the sixth time since its 2006 launch, defeating CBBC, Hopster and TrueTube.
CBBC cleaned up in drama, factual and comedy: Zodiak's Kids All Alone, Drummer TV's Mumbai Street Strikers and Channel X North's So Awkward, while Kindle's CBeebies show Get Well Soon Hospital scooped pre-school: live action.
CBBC drama series Katy was recognised with actor Chloe Lea, who plays the title role, winning best young performer and Tom Bidwell awarded best writer.
Tom Courtenay picked up his fourth Bafta for his role as Grandpa in BBC1's adaptation of David Walliams novel Grandpa's Great Escape, while Justin Fletcher won his third presenter award for CBeebies' Something Special.
Children's online platform TrueTube had a successful night with two wins, including best short form for Origins and the inaugural content for change award for What Do You Mean I Can't Change the World?, which charts the campaigning efforts of a young black female activist.
Later in the night, King Rollo producer Clive Juster received a Special Award.
BAFTA CHILDREN'S AWARDS 2018
CHANNEL
CBBC
CBEEBIES
HOPSTER
TRUETUBE
COMEDY
THE AMAZING WORLD OF GUMBALL Ben Bocquelet, Mic Graves, Sarah Fell – Turner/ Cartoon Network
GRANDPA'S GREAT ESCAPE Production Team - King Bert Productions/BBC One
HORRIBLE HISTORIES Production Team - Lion Television/CBBC
SO AWKWARD Sally Martin, Ian Curtis, Anthony MacMurray - Channel X North/CBBC
CONTENT FOR CHANGE
MY LIFE – HIKE TO HAPPINESS Production Team – Nine Lives Media/CBBC
NEWSROUND INSPIRATIONAL STORIES Heather Clancy, Alex Bath, Kirsti Adair - BBC Children's In-House Productions for CBBC/CBBC
REPLY WITH A FULL STOP IF YOU GET THIS Adam Tyler, Toby Lloyd, Emily Harrison – CTVC/TrueTube
WHAT DO YOU MEAN I CAN'T CHANGE THE WORLD? Adam Tyler, Kim Roden, Toby Lloyd – CTVC/TrueTube
DIGITAL
CBBC BUZZ Andrew Swanson, Dominic Atherton, Dave Coulson – BBC Children's In-House Productions and Chunk for CBBC
HEY DUGGEE: THE COUNTING BADGE Production Team - Scary Beasties, BBC Studios, Studio AKA
IVANDOE: THE ADVENTURE GAME Production team - Turner/ Playerthree
PABLO'S ART WORLD ADVENTURE Grainne McGuinness, Gavin Halpin, Bob Price - Paper Owl Films Ltd
DIRECTOR
MIC GRAVES – The Amazing World of Gumball – Cartoon Network
GRANT ORCHARD – Hey Duggee – Cbeebies
BERYL RICHARDS – Joe All Alone – CBBC
ADAM TYLER – What Do You Mean I Can't Change the World? - TrueTube
DRAMA
HETTY FEATHER Matt Evans, Sallie Aprahamian, David Collier - BBC Children's In-House Productions/CBBC
JOE ALL ALONE Production Team - Zodiak Kids Studios/CBBC
KATY Jonathan Wolfman, John McKay, Tom Bidwell - BBC Children's In House Productions/CBBC
THE WORST WITCH Delyth Thomas, Neil Jones, Kim Crowther - Co-produced by BBC Children's In House Productions and ZDFe/CBBC
ENTERTAINMENT
THE DOG ATE MY HOMEWORK Chris Hulme, Pati Marr, Sara Harkins - BBC Children's In House Productions/CBBC
PROSIECT Z Production Team – Boom/S4C
SAM & MARK'S BIG FRIDAY WIND UP Steve Ryde, Emma Carroll, Andy Potter - BBC Children's In House Productions/CBBC
SWASHBUCKLE Philip Cooper, Geoff Coward, Helen Sheppard – BBC Children's In House Productions/CBeebies
FACTUAL
FINDING MY FAMILY WINDRUSH: A NEWSROUND SPECIAL Kirsti Adair, Georgina Bowman, Chris Whyatt - BBC Children's In-House Productions/CBBC
MISSING DAD (MY LIFE) Rebecca Lloyd-Evans, Natasha Dack, Jennifer Monks – Tigerlily Productions/CBBC
MY GAY LIFE Production Team – Glasshead/Channel 4
MUMBAI STREET STRIKERS (MY LIFE) Production Team - Drummer TV/CBBC
FEATURE FILM
COCO Lee Unkrich, Darla K. Anderson - Pixar Animation Studios/Walt Disney Studios Motion Pictures
THE GREATEST SHOWMAN Michael Gracey, Laurence Mark, Peter Chernin, Jenno Topping - Twentieth Century Fox/Twentieth Century Fox
INCREDIBLES 2 Brad Bird, John Walker, Nicole Grindle - Pixar Animation Studios/Walt Disney Studios Motion Pictures
PADDINGTON 2 Paul King, Simon Farnaby, David Heyman - StudioCanal, HeyDay Films/StudioCanal
GAME
EVERYBODY'S GOLF Development Team - Japan Studio, Clap Hanz/ Sony Interactive Entertainment
FRANTICS Lau Koresgaard, Tim May, Claire Bromley - Napnok Games/ Sony Interactive Entertainment Europe
KNACK 2 Development Team - SIE Japan Studio/Sony Interactive Entertainment Europe
MARIO + RABBIDS KINGDOM BATTLE Development Team - Ubisoft Paris & Ubisoft Milan/ Ubisoft
INTERNATIONAL ANIMATION
THE DEEP Tom Taylor, Trent Carlson, Steven Wendland - DHX Media, A Stark Productions, Technicolor/CBBC
THE HEROIC QUEST OF THE VALIANT PRINCE IVANDOE Christian Bøving-Andersen, Eva Lee Wallberg, Daniel Lennard – Turner/Cartoon Network/Sun Creature
SPONGEBOB SQUAREPANTS Stephen Hillenburg, Vincent Waller, Marc Ceccarelli - Nickelodeon Animation Studio/Nicktoons
TROLLHUNTERS Guillermo del Toro, Marc Guggenheim, Rodrigo Blaas - DreamWorks Animation Television/Netflix
INTERNATIONAL PRE-SCHOOL
DOC MCSTUFFINS Production Team - Brown Bag Films/Disney Junior
THE STINKY AND DIRTY SHOW Production Team - Brown Bag Films/Prime Video
TUMBLE LEAF Kelli Bixler, Drew Hodges - Amazon Studios and Bix Pix Entertainment/Prime Video
VAMPIRINA Chris Nee, Norton Virgien, Nicky Phelan - Brown Bag Films / Disney Channels Worldwide/Disney Junior
INTERNATIONAL LIVE ACTION
ANDI MACK Terry Minsky, Michelle Manning, Greg Hampson – Disney Channels Worldwide/Disney Channel
HUNTER STREET Melle Runderkamp, Rogier Visser, Frank Jan Horst – Blooming Media/Nickelodeon
THE NEXT STEP Production Team - Radical Sheep Productions, a division of Boat Rocker Studios/CBBC
NOWHERE BOYS – TWO MOONS RISING Beth Frey, Tony Ayres, Rowan Woods - Matchbox Pictures/CBBC
PERFORMER
TOM COURTENAY as Grandpa in Grandpa's Great Escape – BBC One
ANNABELLE DAVIS as Sasha Bellman in The Dumping Ground – CBBC
JENNIFER SAUNDERS as Miss Dandy in Grandpa's Great Escape – BBC One
TOM STOURTON as Henry VIII in Horrible Histories - CBBC
PRE-SCHOOL – ANIMATION
CLANGERS Production Team - Coolabi Productions, Factory, CBeebies, BBC Worldwide/CBeebies
HEY DUGGEE Grant Orchard, Janine Voong, Sander Jones – Studio AKA/CBeebies
OCTONAUTS Production Team - Vampire Squid Productions Limited, a Silvergate Media company, in association with Brown Bag Films/CBeebies
SARAH & DUCK Tim O'Sullivan, Sarah Gomes Harris, Jamie Badminton – Karrot Entertainment/CBeebies
PRE-SCHOOL – LIVE ACTION
APPLE TREE HOUSE Production Team - Five Apples/CBeebies
CBEEBIES' THE TEMPEST Tony Reed, Angela Young, Ian Russell - BBC Children's In-House Productions/CBeebies
GET WELL SOON HOSPITAL Helen Sheppard, Helen Scott, Trevor Neal - Kindle Entertainment/CBeebies
WAFFLE THE WONDER DOG Production Team - Darrall Macqueen Limited/CBeebies
PRESENTER
STEVE BACKSHALL Deadly Dinosaurs – CBBC
JUSTIN FLETCHER Something Special – CBeebies
SAM NIXON & MARK RHODES Sam & Mark's Big Friday Wind Up - CBBC
DR CHRIS VAN TULLEKEN & DR XAND VAN TULLEKEN Operation Ouch! – CBBC
SHORT FORM
ALIENS LOVE UNDERPANTS AND… Tom Beattie, Steve Edge, David Schweitzer – Tiger Aspect Productions/SKY Kids
THE DUMPING GROUND: SASHA'S CONTACT MEETING Emma Hill, Michael J Ferns, Lauren Sequeira - BBC Children's In House Productions/CBBC
ORIGINS Adam Tyler, Bob Ayres, Antonio Rebolo – CTVC/TrueTube
TONY'S SKETCH BOOK Tony Collingwood - Collingwood & Co in association with Little Dot Studios/Wizz
WRITER
TOM BIDWELL Katy – CBBC
HELEN BLAKEMAN Hetty Feather – CBBC
WRITING TEAM The Amazing World of Gumball – Cartoon Network
WRITING TEAM – Horrible Histories – CBBC
YOUNG PERFORMER
CHLOE LEA as Katy in Katy – CBBC
DANIEL FROGSON as Joe Holt in Joe All Alone – CBBC
BELLA RAMSEY as Mildred Hubble in The Worst Witch – CBBC
TASHA LAWRENCE as Sarah in Sarah & Duck - CBEEBIES