It is being released ahead of boxing drama's premiere on the platform.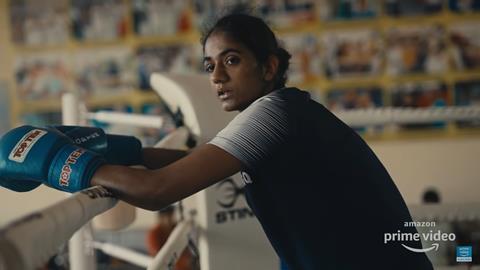 Amazon Prime Video has released a video starring Indian boxing heroes, ahead of the release of boxing drama Toofan.
Produced by Excel Entertainment, the show stars actor and musician Farhan Akhtar as a reformed goon attempting to make a name for himself in boxing.
Ahead of its release on 16 July, a music video called India Ke Toofan - which translates to India's Storm, has been created. It stars various boxing champions from India, including World Championship gold, silver and bronze medalists Laishram Sarita Devi, Sonia Chahal, and Kavita Chahal, two-time Youth World Champion Nitu Ghanghas, Indian International Boxing Championship gold medalist Thulasi Helen, three-time WBC Asia title holder Neeraj Goyat, and many more.
It also features boxing locations from across the country and the USA, such as Bhiwani Boxing Club (Haryana), Sarita Regional Boxing Academy (Manipur), Balaji Boxing Club (Kolkata), Bhowanipur Boxing Association (Kolkata), Najafgarh Boxing Academy (Delhi) and Ryûko Training Center (Las Vegas).
You can take a look at the video below.