BT Sport is launching new educational programme, It's A Numbers Game, to complement Santander's numeracy platform, The Numbers Game.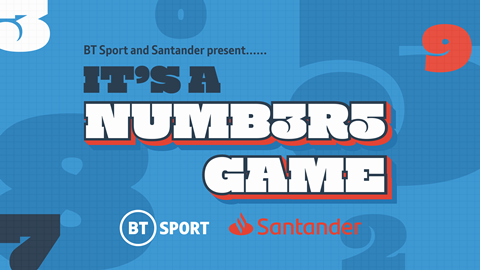 BT Sport and Santander are collaborating to create It's A Numbers Game, a programme combining sport and education.
It will broadcast at 11am every Saturday on BT Sport 1, starting this weekend, as well as on the BT Sport app and YouTube for non-subscribers, and aims to cover the role of science in sport in an educational yet entertaining manner. There will also be world record attempts from various sports people, including former England international Joe Cole.
Cole is joined by fellow ex-Three Lions stalwart Rio Ferdinand, and Team GB Olympic archer Bryony Pitman, in giving contributions to the show, which is presented by Dr. Hannah Fry and Pippa Monique. Dr. Fry is a co-host of BBC Radio 4's The Curious Cases Of Rutherford And Fry podcast - which explores scientific conundrums, and Monique presents the BT Sport Takeover films that highlight the broadcaster's work with students.
Ugo Monye and Andrew Mensah will act as roving reporters, and scientific advice is given by Dr Nick Owen, associate professor, Sports Science, Swansea University. Regular features from Duncan Alexander, otherwise known as OptaJoe, will explore unusual sporting phenomena, such as where is best to aim free kicks, and whether Lionel Messi and Cristiano Ronaldo's scoring records are as good as they seem.
The show aims to build on Santander's numeracy platform- The Numbers Game - which is supported by the likes of Ferdinand, the UEFA Champions League, and educational partner Twinkl. The platform, targeted at ages 5-14, delivers content that reflects school curriculums.
In addition to It's A Numbers Game, BT Sport will debut All Stars v Rock Stars from 15 April, where schoolchildren go head to head against sports professionals such as Andy Robertson and Trent Alexander-Arnold in numeracy and times tables challenges. It will broadcast on Thursdays at 7am and on Saturdays at 7.45am on BT Sport, as well as around It's A Numbers Game.
Head of BT Sport, Simon Green, said: "At BT Sport we have a unique opportunity to use sport, our platform and personalities to inspire and we're delighted to support Santander's The Numbers Game work. It's A Numbers Game aims to educate and excite children and parents about the data behind the sports we love, while All Stars V Rock Stars aims to inspire and challenge schoolchildren and their parents to enjoy developing numeracy skills.
Nathan Bostock, CEO of Santander UK, added: "It's great to work with BT Sport and co-create this fantastic project which will enable us to help even more children and young adults develop their numeracy skills in both a fun and engaging way. We're proud of the work we've carried out with Twinkl to make the Numbers Game a real success nationwide and we look forward to supporting many more people in building their confidence with numbers through the transformative power of sport."