Starting from 26 January, BT Sport has confirmed that it will be showing 26 Premier League games in 30 days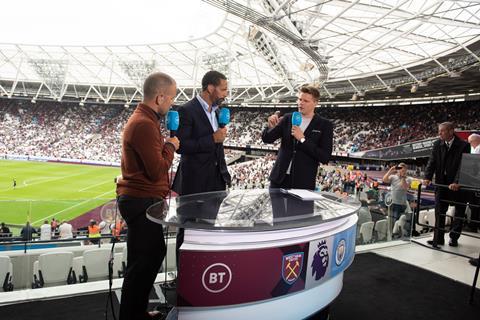 BT Sport has confirmed that it will show 26 matches as part of the Premier League's new TV schedule.
Starting from 26 January, the broadcaster is airing every team twice over ten days and follows this up with games that include Manchester United, Chelsea, and Liverpool.
This week and next, viewers can find two entire gameweeks on BT Sport, with matches available concurrently on the service.
In addition to the Premier League action, subscribers to the £25 monthly pass will have access to Premiership rugby, the Fifth Round of the FA Cup, and European football such as the Champions League and Bundesliga.
Every Premier League game continues to be broadcast live in the UK, with fans still unable to attend stadiums in person. Sky Sports, Amazon Prime Video, and the BBC are also showing matches over the next month, with some games later in February still to be assigned to a broadcaster.
Here are the matches available on BT Sport over the next 30 days:
Newcastle United v Leeds United – Tuesday 26th January, BT Sport 1, 17:30
Crystal Palace v West Ham – Tuesday 26th January, BT Sport 2, 17:30
West Brom v Man City – Tuesday 26th January, BT Sport 2, 20:00
Southampton v Arsenal – Tuesday 26th January, BT Sport 1, 20:00
Burnley v Aston Villa – Wednesday 27th January, BT Sport 2, 17:30
Chelsea v Wolves – Wednesday 27th January, BT Sport 1, 17:30
Brighton v Fulham – Wednesday 27th January, BT Sport 3, 19:00
Everton v Leicester City – Wednesday 27th January, BT Sport 2, 20:00
Man Utd v Sheffield United – Wednesday 27th January, BT Sport 1, 20:00
Spurs v Liverpool – Thursday 28th January, BT Sport 1, 19:00
Everton v Newcastle United – Saturday 30th January, BT Sport 1, 11:30
Chelsea v Burnley – Sunday 31st January, BT Sport 1, 11:30
Sheffield United v West Brom – Tuesday 2nd February, BT Sport 2, 17:30
Wolves v Arsenal – Tuesday 2nd February, BT Sport 1, 17:30
Man Utd v Southampton – Tuesday 2nd February, BT Sport 1, 20:00
Newcastle United v Crystal Palace – Tuesday 2nd February, BT Sport 2, 20:00
Burnley v Man City – Wednesday 3rd February, BT Sport 1, 17:30
Fulham v Leicester City – Wednesday 3rd February, BT Sport 2, 17:30
Leeds United v Everton – Wednesday 3rd February, BT Sport 3, 19:00
Aston Villa v West Ham – Wednesday 3rd February, BT Sport 2, 20:00
Liverpool v Brighton – Wednesday 3rd January, BT Sport 1, 20:00
Spurs v Chelsea – Thursday 4th February, BT Sport 1, 19:00
Aston Villa v Arsenal – Saturday 6th February, BT Sport 1, 11:30
Leicester City v Liverpool – Saturday 13th February, BT Sport 1, 11:30
Southampton v Chelsea – Saturday 20th February, BT Sport 1, 11:30
Man United v Newcastle – Sunday 21st February, BT Sport 1, 18:00