Film focusing on iconic Brazilian players to debut on 10 October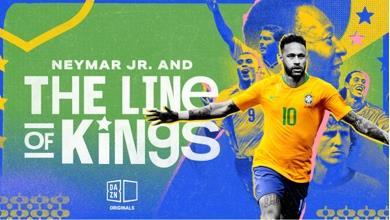 DAZN is to premiere its cinematic one-off film Neymar Jr And The Line Of Kings globally on 10 October.
Featuring interviews with Neymar himself as well as South American football experts, the film follows the stories of the top Brazilian footballers of the past 70 years through Neymar's perspective - from Pele, Zico, Romario, Ronaldo and Ronaldinho to the modern day.
The film looks at the key points of Neymar Jr.'s career – from humble upbringings in the State of São Paolo and his footballing breakthrough, to World Cup highs and lows with the Brazil national team such as as the traumatic injury at the World Cup in 2014 that nearly paralysed him, and a triumphant victory at his home Olympics in 2016.
Neymar Jr And The Line Of Kings is produced by Partizan for DAZN, and is directed by Anthony Wonke (Ronaldo, Being AP) plus executive produced by DAZN's Toby Burnett (The Making Of, In Our Blood).
It follows in the footsteps of other DAZN originals, such as Ronaldo: El Presidente, a six-part docu-series about the legendary forward's time as president of Real Valladolid; Parallel Worlds, that connects global sporting icons Cristiano Ronaldo and Gennady 'GGG' Golovkin to discover what they share in common; and Club Ibiza: The Sessions, a look at UD Ibiza, a Spanish football club based on the island of Ibiza and aiming for La Liga.