The coverage will be available for free on YouTube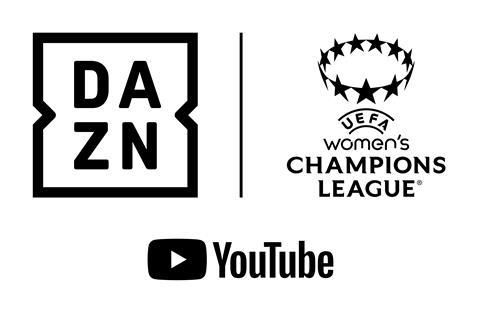 DAZN has unveiled its broadcast plans for the Women's Champions League ahead of the 2021/22 edition of the competition kicking off this week.
The broadcaster will show all 61 of this season's matches on its platform, as well as making them available for free through its UEFA Women's Champions League YouTube channel.
It is running the We All Rise With More Eyes campaign to boost knowledge of the competition, with a six-part We All Rise series that will shine a light on women's football in six influential European cities, from grassroots and local community to the professional game itself. A short-form episode will debut at half time during every group stage matchweek.
It will begin this week with We All Rise: London, featuring interviews with members of English club team Dulwich Hamlet, community girls football club Hackney Laces, Britain's first female Muslim football referee JJ Roble, former manager of the Arsenal women's team Vic Akers O.B.E., London Mayor Sadiq Khan, star players and legends including Katie Chapman, and more. Paris will be the next city to get the treatment.
For match coverage, DAZN's presentation team will travel to a different city each week for its official Game Of The Week. It will be hosted by a rotating group of iconic faces from football and the wider sports and entertainment world, with the first one being Arsenal v Barcelona on 5 October.
In addition, DAZN guarantees that every match will be available in up to three languages - the home team's language, the away team's language, and English if it isn't already covered. The talent lineup includes names from across Europe.
Selected DAZN Women's Champions League talent:
- Pien Meulensteen (England): Seasoned sports broadcasting and women's football pro currently working with Manchester United TV, Premier League Productions and BBC Radio.
- Romain Balland (France): Long-established women's football journalist and Eurosport women's football presenter since 2014.
- Sandra Riquelme (Spain): Former pro footballer and current commentator for Vamos on Movistar and presenter for dedicated women's football channel El Patio on YouTube.
- Pierluigi Pardo (Italy): Legendary broadcast vet universally considered "the" voice of football in Italy.
- Verena Schweers (Germany): Former Bayern Munich and Wolfsburg star as well as German national team player.
Moreover, live coverage will be complemented by non-live content on YouTube such as highlights featuring all the players, clubs, and goals from the season, as well as the We All Rise series, Game Of The Week clips, player interviews and profiles, team highlights and best-of goal reels, and a new This Is series that will help fans get to know each team in the competition.
This will be joined on social media by DAZN's Champions League Instagram and Twitter accounts, which will give equal coverage of the men's and women's competitions.
Women's Champions League group stage fixtures
Matchday 1
Tuesday 5 October
Hoffenheim vs HB Køge (18:45), Häcken vs Lyon (18:45)
Barcelona vs Arsenal (21:00), Benfica vs Bayern München (21:00)
Wednesday 6 October
Servette vs Juventus (18:45), WFC Kharkiv vs Real Madrid (18:45)
Chelsea vs Wolfsburg (21:00), Breidablik vs Paris Saint-Germain (21:00)
Matchday 2
Wednesday 13 October
Wolfsburg vs Servette (18:45), Paris Saint-Germain vs WFC Kharkiv (18:45)
Juventus vs Chelsea (21:00), Real Madrid vs Breidablik (21:00)
Thursday 14 October
HB Køge vs Barcelona (18:45), Bayern München vs Häcken (18:45)
Arsenal vs Hoffenheim (21:00), Lyon vs Benfica (21:00)
Matchday 3
Tuesday 9 November
Servette vs Chelsea (18:45), WFC Kharkiv vs Breidablik (18:45)
Paris Saint-Germain vs Real Madrid (21:00), Juventus vs Wolfsburg (21:00)
Wednesday 10 November
Barcelona vs Hoffenheim (18:45), HB Køge vs Arsenal (18:45)
Benfica vs Häcken (21:00), Lyon vs Bayern München (21:00)
Matchday 4
Wednesday 17 November
Hoffenheim vs Barcelona (18:45), Häcken vs Benfica (18:45)
Bayern München vs Lyon (21:00), Arsenal vs HB Køge (21:00)
Thursday 18 November
Wolfsburg vs Juventus (18:45), Breidablik vs WFC Kharkiv (18:45)
Real Madrid vs Paris Saint-Germain (21:00), Chelsea vs Servette (21:00)
Matchday 5
Wednesday 8 December
Servette vs Wolfsburg (18:45), WFC Kharkiv vs Paris Saint-Germain (18:45)
Chelsea vs Juventus (21:00), Breidablik vs Real Madrid (21:00)
Thursday 9 December
HB Køge vs Hoffenheim (18:45), Häcken vs Bayern München (18:45)
Arsenal vs Barcelona (21:00), Benfica vs Lyon (21:00)
Matchday 6
Wednesday 15 December
Bayern München vs Benfica (18:45), Lyon vs Häcken (18:45)
Barcelona vs HB Køge (21:00), Hoffenheim vs Arsenal (21:00)
Thursday 16 December
Real Madrid vs WFC Kharkiv (18:45), Paris Saint-Germain vs Breidablik (18:45)
Juventus vs Servette (21:00), Wolfsburg vs Chelsea (21:00)