Messages using the #refugeeolympicteam will be used across discovery+ and Eurosport's coverage.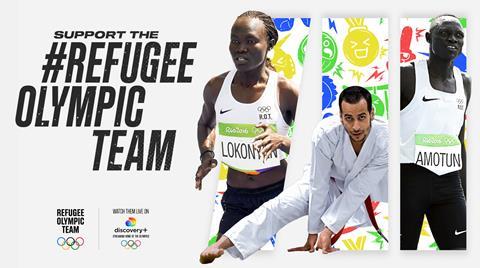 Discovery has launched a campaign to build support for the Olympic Refugee Team at the Tokyo 2020 Olympics.
Fans will be encouraged to send messages to the team through Twitter, TikTok, Snapchat, and Instagram with the #refugeeolympicteam, which will then feature in discovery+ and Eurosport's on-air, digital, and social coverage.
It is only the second time that a refugee team has competed in the Games, with Rio 2016 being the first time that it was created. The athletes are supported through the Refugee Athlete Support Programme, which helps them to train to qualify for the Olympics, as well as their sporting careers and build for the future.
The campaign has begun with a short film, developed with creative agency R/GA, which invites viewers to support the team. In addition, a host of broadcast content about the refugee team will be aired, including an episode of Eurosport's Trailblazers series telling the story of Syrian refugee and UNHCR Goodwill Ambassador Yusra Mardini's journey from fleeing via boat to Greece to competing in the Rio 2016 Games.
In partnership with the IOC, let's build the loudest fan base for the awe-inspiring #RefugeeOlympicTeam ✊#Tokyo2020 pic.twitter.com/AshZd8uCzb

— Eurosport UK (@Eurosport_UK) July 22, 2021
Sophie Long, VP of marketing at Discovery Sports, said: "In what has been an incredibly challenging time for millions of people across the globe, Olympic Games Tokyo 2020 can bring inspiration and hope to all our communities. The IOC Refugee Olympic Team brings to life exactly what the spirit of the Games is all about and the IOC deserves immense credit for empowering these athletes to push the boundaries of what is achievable. This campaign is discovery+ and Eurosport's mission to unite fans across the world in celebration of the IOC Refugee Olympic Team, supporting both the cause and people it champions.
"Through our partnership with the IOC, we are privileged to champion the team, made up of extraordinary and inspirational athletes who have put hope above adversity to reach the world's biggest sporting stage. Sport has a unique ability to unite people in celebration of human achievements and we pride ourselves on telling these stories that unlock the power of sport, such as those perfectly embodied by the IOC Refugee Olympic Team."