BBC is airing the 2022 event in the UK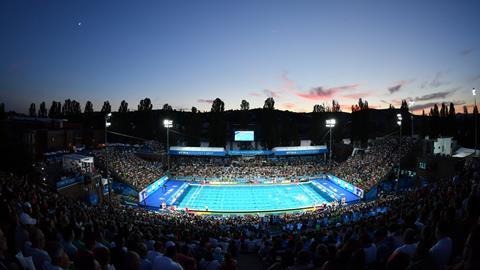 The BBC will broadcast the Budapest 2022 FINA World Championships, after the EBU extended its rights agreement for the competition.
Running from 18 June until 3 July, the showpiece event sees the best from swimming, diving, high diving, open water swimming, artistic swimming, and water polo competing for gold. The BBC has coverage of the event on iPlayer and the BBC Sport website.
It is taking place in Budapest after originally being slated for Fukuoka, Japan, in 2021. The pandemic saw the competition postponed until 2022 originally, and will now take place in Japan next year with Budapest stepping in to host for 2022 in just February of this year. It is the second time in five years that Budapest has hosted the event, with FINA adding the 2022 competition to maximise opportunities for established and emerging aquatics athletes.
The EBU has also retained the rights for the 2023 edition, extending the deal that was originally meant to run from 2018 to 2021.
In addition to the BBC, the EBU deal sees the World Championships covered by ORF (Austria); BNT (Bulgaria); HRT (Croatia); CYBC (Cyprus); ERR (Estonia); YLE (Finland); France Televisions (France); GPB (Georgia); ERT (Greece); MTVA (Hungary); RUV (Iceland); RAI (Italy); LRT (Lithuania); RTCG (Montenegro); NOS (Netherlands); TVP (Poland); RTS (Serbia); RTVS (Slovakia); RTVSLO (Slovenia); SVT (Sweden); SRG (Switzerland); and non-EBU member The Sport Channel (Israel).
The EBU will also provide complementary coverage on All Aquatics (aquatics.eurovisionsports.tv), the digital aquatics channel operated by Eurovision Sport, to ensure that all the action from Budapest (as well as all other FINA events in 2022) will be made available around Europe on a free-to-view basis.
FINA president Husain Al Musallam said: "The FINA World Championships resonates with viewers across the globe. This is very evident with our European audience. EBU's coverage from more than 20 Members allows European fans to follow and cheer on their favourite aquatics stars throughout the 17 days of competition at this year's event in Budapest. On TV alone, we anticipate EBU's coverage of the 19th FINA World Championships to reach millions of viewers across the continent. Since 1973, European sports fans have benefitted greatly through FINA's strong and longstanding partnership with the EBU."
Andreas Aristodemou, Eurovision Sport's head of summer sports rights, added: "The FINA World Championships is an event EBU has supported since its inception, and Budapest 2022 extends this proud record. We are delighted that our Members supported this acquisition and are bringing their unparalleled coverage and reach to another edition of FINA's flagship event."