Latest in The Is Football series focuses on disabilities during the Cerebral Palsy World Cup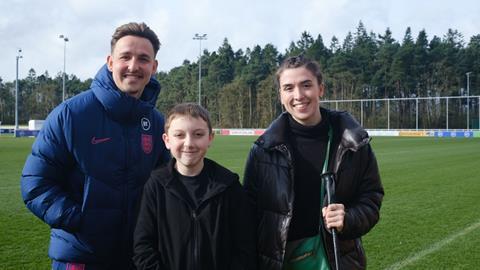 England Football has released the latest in the This Is Football film series, championing the disability game.
The film stars England Cerebral Palsy player Liam Irons and Dylan, a young grassroots player who himself suffers with cerebral palsy, with the former currently taking part in the 2022 IFCPF World Cup - which is happening in Barcelona from 27 April - 18 May.
It is directed by Esmé Moore from Youth Beyond Borders, who also has cerebral palsy, using her own experiences to creatively bring to life a film that aims to improve and raise awareness of disability football in England.
The film charts Irons' journey of feeling frustrated about his disability to feeling empowered and accepted through playing CP football, with the player saying in the film: "Football doesn't have to seem scary or stay as a dream. But it can be a reality that leaves you feeling empowered in your body."
When you step onto the pitch with a group of people like you, and for the first time you feel a sense of relief.

Football is for everyone.

This is football. #TakeYourChance | @_liamirons pic.twitter.com/vsdCerpPXD

— England Football (@EnglandFootball) April 27, 2022
There are set to be further entries in the This Is Football series later this year, featuring senior Women's, Men's and Para players ahead of UEFA Women's EURO England 2022, Men's UEFA Nations League fixtures and The FA Disability Cup. Episodes are released on the England Football website and social channels.
Irons said: "I'm honoured to have my story told as shining a light on disability football is so important. I know what it's like to feel like your disability can stop you from doing the things you love, but I'm also proof that finding your pathway and your passion can change your whole life. I would urge anyone with a disability to look into getting involved with a grassroots side. The sense of belonging and community you'll find is like no other."
Kelvyn Quagraine, Director of Youth Beyond Borders, added: "Having a disability shouldn't stop you from doing any of the things you love – and that includes football. We're honoured to be working with England Football on the This Is Football series and to have the opportunity to tell the stories of these inspiring and incredible players. Our methodology champions youth and connects talented creatives to stories they feel represented by. We are so proud of Dylan, and the work Esmé has done for this piece of content."