The three-year extension sees Eurosport's investment stay at the same level despite the Covid-19 pandemic.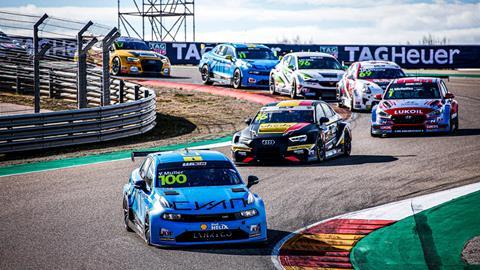 Eurosport Events has agreed with the Fédération Internationale de l'Automobile (FIA) to promote the World Touring Car Cup (WTCR) for another three years.
The deal covers the 2023, 2024, and 2025 series, adding onto the already existing agreement. It means that Eurosport will continue to promote the event, and its investment stays at the same level despite the Covid-19 pandemic.
In addition, the licence agreement with World Sportscar Championship (WSC) to use the TCR technical regulations has been extended for the same period, and all three organisation will continue their aim to maximise appeal with teams, customer racing departments, suppliers, commercial partners, event promoters, broadcasters and fans.
This year will be first that the competition uses part-renewable fuel. 15% of the mix will be made from renewable components, with the aim that it is 100% by the 2023 campaign.
François Ribeiro, head of Eurosport Events, said: "We've worked non-stop to keep high the level of WTCR through a very constructive cooperation with the FIA and a quality global promotion. By securing a contract extension, even during this unprecedented period we are all living through, we've cemented this commitment and provided much needed stability to all our stakeholders.
WTCR − FIA World Touring Car Cup 2021 calendar:
Rounds 1 and 2: WTCR Race of Germany, Nürburgring Nordschleife: June 3-5
Rounds 3 and 4: WTCR Race of Portugal, Vila Real: June 26-27
Rounds 5 and 6: WTCR Race of Spain, MotorLand Aragón: July 10-11
Rounds 7 and 8: WTCR Race of Italy, Adria International Raceway: July 31-August 1
Rounds 9 and 10: WTCR Race of Hungary, Hungaroring: August 21-22
Rounds 11 and 12: WTCR Race of South Korea, Inje Speedium: October 16-17
Rounds 13 and 14: WTCR Race of China, Ningo International Speedpark: November 6-7
Rounds 15 and 16: WTCR Race of Macau, Circuito da Guia: November 19-21
"We believe in high level combustion customer racing and will do everything possible to make WTCR an even more environmentally sustainable competition over the next five years. With Eurosport Events promoting new electric touring car activities from this season it's only right to enforce the message that this is not a case of one chapter closing and others opening, but of all our activities receiving a significant level of investment for the long term."
Alan Gow, president of the FIA Touring Car Commission, added: "In Eurosport Events we have a partner that's fully committed to delivering the best possible WTCR. We are delighted to be extending this extremely successful alliance that began in 2005 and shows no sign of slowing down, only speeding up."
Marcello Lotti, president of the WSC Group, said: "Having a strong series at the top of the TCR pyramid is essential to the ongoing and unprecedented success of the TCR category around the world and we are very pleased there will be a WTCR for at least another three years after this as we continue our partnership with Eurosport Events and the FIA."