The competition takes place over 17-18 July.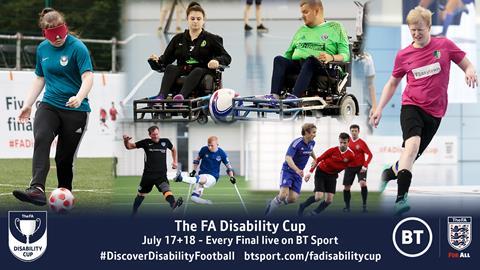 BT Sport has revealed its plans for the 2021 FA Disability Cup, which takes place on 17-18 July.
The fifth edition of the competition will be fronted by Last Leg presenter Alex Brooker, five-time Paralympic champion Hannah Cockcroft, and BT Sport presenter Jules Breach. Coverage will be available without a subscription through BT Sport's website, its App for mobiles, tablets, smart TVs, media adapters and games consoles, plus its Facebook channel. There will also be highlights shown on Channel 4 on 25 July.
The broadcast will be the most accessible to date, with each day featuring all of the finals on three BT Sport channels with each offering different accessibility features. BT Sport 3 will feature enhanced audio description delivered by an expert based at St George's Park, BT Sport Extra 1 will carry British Sign Language, and subtitles will be available on BT Sport 1*. A fourth channel, BT Sport Ultimate, will provide coverage in up to 4K HDR picture quality.
Next season, BT Sport will trial these features with other sports, with the aim of making them standard for all coverage in the future.
In addition to the live coverage, there is also a host of other content in the build up to the event, including new mini-series Para Football Adventures, presented by Brooker alongside influencer and Merseyrail FC striker Chelcee Grimes. All five episodes debut on Saturday July 10 at 6.30pm on BT Sport 1, and will individually air as short minute episodes in the week prior to the Cup taking place.
Baroness Sue Campbell, The FA's director of women's football and the organisation's strategic lead for disability football, said: "This year's FA Disability Cup promises to be the most exciting yet, with some of the nation's most successful grassroots teams set to compete to be crowned national champions in their respective disciplines. Disability football is a fast growing and important format of the game so to have all of the action broadcast live on BT Sport is fantastic news and will showcase the talent of all those involved, as well as inspiring newcomers to the sport."
Jamie Hindhaugh, chief operating officer, BT Sport, added: "BT is proud of its rich heritage in supporting disability sport, having been a founding partner of the British Paralympic Association, sponsor of the 2012 Paralympics and backing dozens of disability sports projects through the BT and Premier League Disability Programme. We are looking forward to bringing fans highly accessible coverage of the 2021 FA Disability Cup, which is set to advance BT's vision with the four Home Nation Football Associations to provide new opportunities for everyone to enjoy the benefits of football."