Social media giant's strategy is to focus on live events that are 'under-served' by broadcasters
Facebook is concentrating its sports strategy on "underserved" events that are not being shown by the traditional broadcasters, according to the US tech giant's head of global live sports.
Peter Hutton cited sports including surfing and Ironman as appealing to niche audiences that have never previously had access to live events on TV.
The recent Ironman World Championship in Hawaii, which lasted more than 12 hours, broke Facebook's record for most-viewed non-football sporting event.
"You can't show Ironman for 12 hours on linear but clearly there is a really big fanbase," Hutton told journalists at this week's Sportel exhibition in Monaco. "We are able to reach audiences that others can't."
Ultimate Fighting Championship (UFC) is banned from being broadcast in Germany, but Facebook has struck a deal in the territory with a UFC-focused app to distribute short-form content.
"We have helped UFC cultivate a fan base in Germany," said Hutton. "It couldn't previously break through on TV."
Extended broadcasts
There are signs that traditional broadcasters are waking up to the potential for their digital services to serve fans of niche sports with extended broadcasts. Next week, the BBC will show track cycling event Six Day Series in its entirety via iPlayer and the red button.
Former Eurosport chief executive Hutton, who previously helped broker the £920m deal for the European broadcast rights for the Olympics, was speaking for the first time since joining Facebook 18 months ago.
One further tenet of the social media giant's approach is to leverage its portfolio of brands – Instagram, WhatsApp and emerging VR platform Occulus.
On the latter, which Hutton described as a "huge growth area" for the company, viewers can watch NBA basketball games and Fifa World Cup content with other users via VR Facebook Watch Parties.
"Getting a ticket to a big sporting event is difficult so being able to have a shared viewing experience with a friend has huge potential," added Hutton.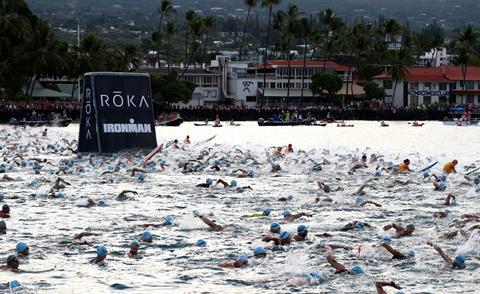 Meanwhile, Instagram is being leveraged for sport in a variety of ways, including its fledgling video service IGTV, while WhatsApp acts as a marketing tool – as big sports clubs create messenger groups to keep fans informed.
The shared Facebook Watch Parties (VR and non-VR) are seen as a way of keeping viewers on the platform for longer, according to Kike Levy, Facebook's sports strategic partnership manager for EMEA.
Levy said around 720 million people watch sport on Facebook per month, viewing an average of 26 minutes at a time – a figure that increases when a viewer is interacting with polls and Q&As, or chatting with other fans.
Hutton downplayed the platform's ambitions in regard to acquiring sports rights. Around 95% of Facebook Watch's live sports coverage is uploaded by clubs and sporting bodies and has not been paid for, according to Hutton.
The main deal brokered during his tenure is to show Spanish football across the Indian sub-continent for the next three years.
One LaLiga Watch Party group has more than 100,000 members in India, more than 80% of whom are under 35.
"Sport is a sexy area and people want to write about big rights deals, but we need to go at the right pace"
Peter Hutton, Facebook
Hutton was speaking a few days after an Ampere Analysis report revealed that sports rights account for more than one quarter of all TV content spend worldwide – around $38bn (£29bn).
"Covering live sport is a big learning process so it's important that we make small steps," he added. "We share an attitude with Amazon and the new players in that our aim is to give people a better experience as part of a portfolio of products.
"Sport is a sexy area and people want to write about big rights deals, but we need to go at the right pace and not hinder what we are trying to do in the long term."
With this in mind, Hutton revealed that Facebook will not be applying for the soon-to-be released tender for Champions League football coverage in France. He said Facebook prefers to work with OTT sports players like DAZN Group and Eleven Sports, rather than treat them as competitors.
Facebook is a subscription "funnel", according to Hutton, where audiences can watch content before deciding whether to pay for access.