British and US combat sports streamers sign up to the platform for commercial venues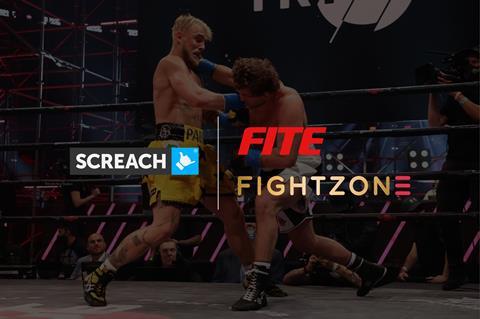 Boxing streaming service Fightzone has selected Screach to deliver its service to commercial venues.
US combat sports platform FITE has also signed up to the service, which is a cloud-based streaming platform built specifically for bars, restaurants, and cafes. It works through a Smart TV app, and is available in 157 countries.
Fightzone, the subscription streamer which features British and international boxers as well as on-demand highlights and behind-the-scenes access, will use the service to try and grow its subscriber base.
Jim McMunn, general manager of Fightzone, said: "Our strategic partnership with Screach is a major milestone in the development of the Fightzone brand. It instantly gives us two things; frictionless access to enterprise venues to generate revenue from commercial subscription sales, as well as huge exposure that will help us build our consumer subscriber base too."
Meanwhile, FITE, which airs combat sports and entertainment to its five million registered users and has featured the likes of Floyd Mayweather, Tyson Fury, and Manny Pacquaio as well as YouTube stars KSI, Logan Paul and Jake Paul, aims to do similar.
Ben Halabi, SVP of international development at FITE, said: "We are on a mission to revolutionise the worlds of sport and entertainment – and a key part of that is finding powerful new ways for fans to see and enjoy our content.
"That's why we've partnered with Screach; its proven technology will bring us closer to millions of fans in more than 150 countries, allowing them to share the excitement of watching live events together in their local bar, and giving us access to the large but underserved enterprise market."